Quantifying the Qualitative:
Analyzing TikTok Posts to Explore the Role of Narco-Propaganda in Mexico's Drug War
Henry Chapman, Research and Insights Analyst
A quantitative analysis of Vice News' report
Social media is an ever-present feature in mainstream journalism, with reports covering various topics. However, many of these reports rely on qualitative approaches that predominantly utilize interviews and anecdotal posts without a wide-ranging quantitative approach to social media research. In this brief, we will evaluate a Vice News article on drug cartel-related content to see whether the article's qualitative thesis holds when examined quantitatively.
Starting trend research from a news article
To do this, we will be analyzing a Vice News report titled "Narco-Propaganda is Fueling Mexico's Drug War'' from their series The War on Drugs. This report suggests that drug cartels use propaganda to cement their power in the war on drugs, and a critical goal of it is to control the flow of information and public opinion. Furthermore, a considerable amount of romanticized narco-related activity is visible on TikTok.
This Vice News report argues that social media platforms, such as Instagram and TikTok, are used to spread propaganda, not necessarily by the cartels themselves but by interested parties. Additionally, narco-cultural attributes have a positive, pervasive influence on Mexico, and these types of posts are visible on TikTok.
An initial look: a language analysis
We conducted a language analysis of the drug cartel-related content on TikTok to ensure that the post volume was from organic, Spanish-speaking users. We found that English and Spanish speakers were roughly equal in their presence. However, the percentage of Spanish-speaking content was 1,100% higher than a baseline TikTok search.
Figure 1: Language documents distribution of narcos-related content (May 2020 through May 2023); Infegy Atlas data.
Next - looking at the geography of TikTok-content
To ensure we were looking at the right area, we conducted a geographic analysis of TikTok-related posts. We found a low concentration of results in the United States but a much higher concentration of posts in Latin America, specifically in Mexico. This concentration corroborates the Vice News report, which noted a high cultural concentration of TikTok drug cartel activity.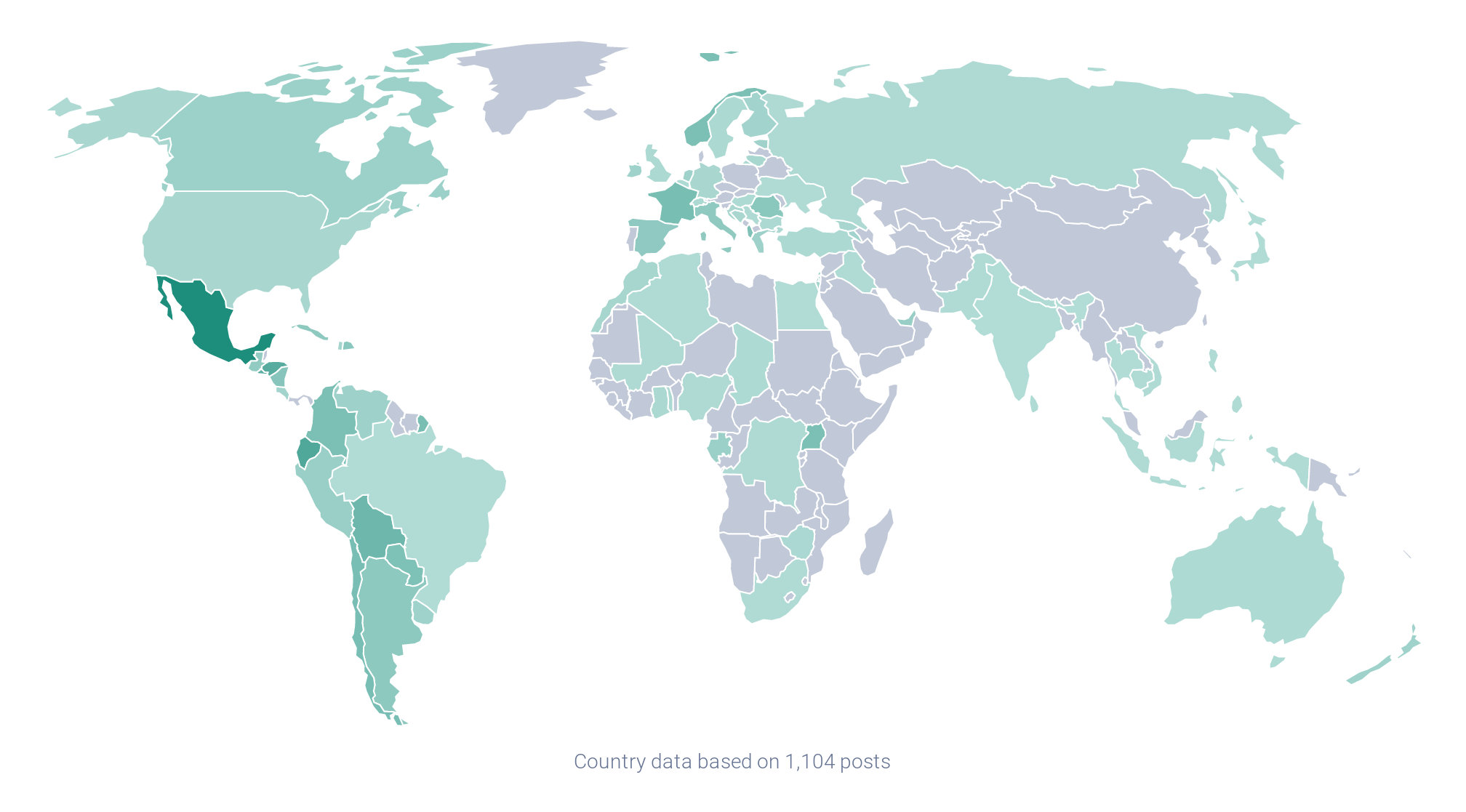 Figure 2: TikTok post volume by country around "El Chapo" or "#narco" (May 2020 through May 2023); Infegy Atlas data.
Next, we looked at sentiment by country. This analysis also supported the Vice News report. Drug cartel-related content had 67% positivity in Mexico, which is surprising considering that they are responsible for the deaths of thousands of people and high crime rates. In contrast, drug cartel-related content only had 55% positivity in the United States.
Figure 3: TikTok sentiment by country around "El Chapo" or "#narco" (May 2020 through May 2023); Infegy Atlas data.
Examining the most important people mentioned on TikTok
Based on language and geography, we had an idea that we were in the right neighborhood of content, and there was probably some truth to the Vice News report. So next, we looked at Entities that detect proper nouns (people, places, and things) using AI-powered pattern matching. These Entities provided fascinating insights into how Mexican TikTok users think of drug-cartel kingpins.
Figure 4: Entities-related to narco-related activity on TikTok (May 2020 through May 2023); Infegy Atlas data.
Three points of interest here:
First, our search was related to El Chapo (Joaquín Guzmán), so it is no surprise that he shows up first on our list. However, he had a 74% positivity rating. This isn't surprising, as many drug cartels are actually quite popular with the local population. Cartels have been known to give food and humanitarian supplies. Additionally, they also resolve disputes in communities where law enforcement or the government are absent.release.
Second, Andrés Manuel López Obrador appears on our list as the current president of Mexico, but he only has a 37% positivity rating. This differential is fascinating, considering a drug lord has more than double the sentiment of the incumbent Mexican president. release.
Third, Ovidio Guzmán López appears; he is El Chapo's son and a current leader in the Sinaloa cartel, and Mexican authorities arrested him in January 2023. This arrest caused massive unrest in Sinaloa as local people demanded his release.
Using Narratives to Discover "Narcocorridos":
The Vice report highlighted the prevalence of narcocorridos, folk ballads that glorify the exploits of drug traffickers. We corroborated this using Narratives or a high-level overview of disparate social media conversations. For example, we identified numerous clusters of content related to drug trafficking on TikTok, which mentioned these ballads (orange cluster at bottom of network) or narco-related music (light green cluster in bottom left of chart).
Figure 5: Narratives view of #narco-content on TikTok (May 2020 through May 2023); Infegy Atlas data.
To further investigate, our team delved deeper into these clusters and found that the sentiment surrounding the narcocorridos was almost universally positive. We noted a near 100% positivity rating, which indicates that these ballads are popular among a broad audience on TikTok. Overall, the findings suggest that narcocorridos have a significant presence on TikTok and are viewed positively by many. This information could be helpful for those interested in studying the intersection between popular culture and organized crime, as well as for those seeking to understand the influence of social media on cultural trends.
Figure 6: Sentiment-colored hashtags of narco-related music (May 2020 through May 2023); Infegy Atlas data.
Using social listening data to corroborate a news report's thesis
In conclusion, social media plays a crucial role in shaping public opinion and has become an essential source of and for mainstream news. However, many news reports rely heavily on qualitative approaches without considering the quantitative data available on social media platforms. By analyzing a Vice News report on narco-propaganda, we showed you could corroborate a report's thesis using quantitative data from TikTok. We found that drug cartel-related content on TikTok is predominantly discussed in Spanish, is concentrated in Latin America, specifically in Mexico, and is viewed positively by most users. Our analysis also revealed the significant presence of narcocorridos, folk ballads that glorify drug traffickers, on TikTok. By leveraging social media analytics tools like Infegy Atlas, researchers can expand the scope of their investigations to gain deeper insights into social phenomena and cultural trends.
Stay up-to-date with Infegy insights by subscribing to our blog