An amazing place filled with amazing people from all walks of life
About Infegy
We've built a company we love working for. We're a group of smart, tenacious, energetic, hard-working people who are passionate about solving the hardest problems and making the impossible possible. The location of our homebase — Kansas City's Crossroads Arts District — reflects the spirit of our company: creative, cutting-edge, and thriving.
Innovation and collaboration
A mission built on working together
We know first-hand that great innovation is fueled by a diversity of skills, experiences, perspectives and out-the-box thinking. This means you won't find any siloed teams or individuals at Infegy. Instead, we approach our clients, partners and each other with open minds and hearts in order to create, innovate, and problem-solve.
We're out to change how companies lean in and listen to their consumers; that endeavor begins with us leaning into conversations with each other. You'll find that our collaboration-focused and innovative environment is exactly how we built, and continue to evolve, the best data-driven technology on the market.
The values that drive us
On the surface, we might seem like just another digital consumer intelligence company. In reality, we're so much more. Our company was founded on four principles, all built on the high value we place on truthful representation. To this end, we pursue better data and better insights, so you can make decisions with clear, contextualized information.

Robust audience data and analysis
A greater dataset, and a more expansive perspective means you see a clearer, truer picture. That matters. And we know the value of historical context when it comes to making future decisions. That's why we don't archive anything; all the data we've gathered since 2007 is always available.

Unmatched client experience and user support
We love data, and using it to understand people all over the globe. That's why you'll never be alone in your quest for insights. We're going on this journey with you and will be there every step of the way to ensure you get the most out of social listening.

Quickest view of consumers' thoughts and sentiments
People change. And that's OK. That's why we work to open near-instant windows into the datasets and insights which accurately represent consumers' thoughts, feelings, and needs — so that you can listen, learn, and understand … right now.

Changing how companies listen to their consumers
Communication is a human imperative. That's why listening to each other matters. Do it really well, and you're half-way to creating better products and services, nurturing lasting relationships, and meeting needs where they exist. As our Founder and CEO Justin Graves likes to say, "It is possible to deeply understand what's truly going on. You've just got to listen to what people are saying."
Infegy named "Best Places to Work" for three consecutive years.
Creating a culture we love
"Infegy is more agile and responsive to employee and client feedback than any other organization I have experience with. This is because our leadership team listens to feedback from everyone without ego and shares their thoughts with us. This results in constant improvements to our platform and internal processes and it is the biggest reason that I'm excited to come to work each day. In terms of benefits, Infegy shows they care about the things that truly impact our quality of life as an employee [...] Infegy promotes work-life balance and a healthy lifestyle with dollars and cents, not just mission statements."

– An excerpt from our "Best Places to Work" nomination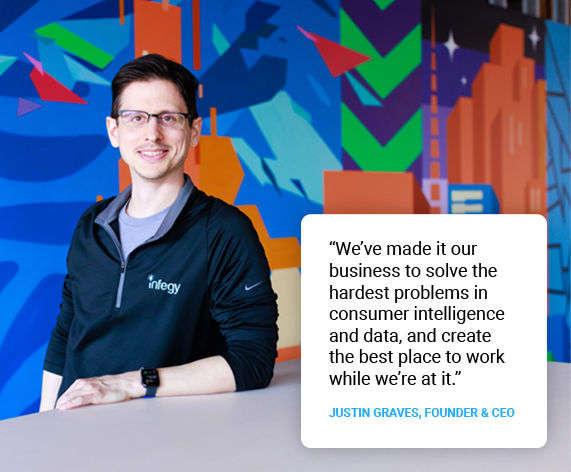 No other social media and consumer intelligence platform is like Infegy Atlas
Let's connect and jump-start your journey to consumer insights