Social Media Sentiment Analysis of March Madness Upsets
Fan reactions to the historic Purdue vs. Fairleigh Dickinson matchup
Henry Chapman, Research and Insights Analyst
March Madness grips social media
March Madness gripped social media in 2023. Diehard basketball fans took to social to express their emotions and opinions throughout March. The tournament's fabled upsets provided social intelligence geeks like us an amazing opportunity to conduct audience segmentation and emotional analysis using Infegy Atlas.
For this brief, we focused on this year's most surprising and least anticipated upset: first-seeded Purdue's defeat to sixteenth-seeded Fairleigh Dickinson University. This defeat marked only the second time in NCAA tournament history that a sixteenth-seeded team triumphed over a first-seeded one. This provoked intense reactions from the Purdue fanbase.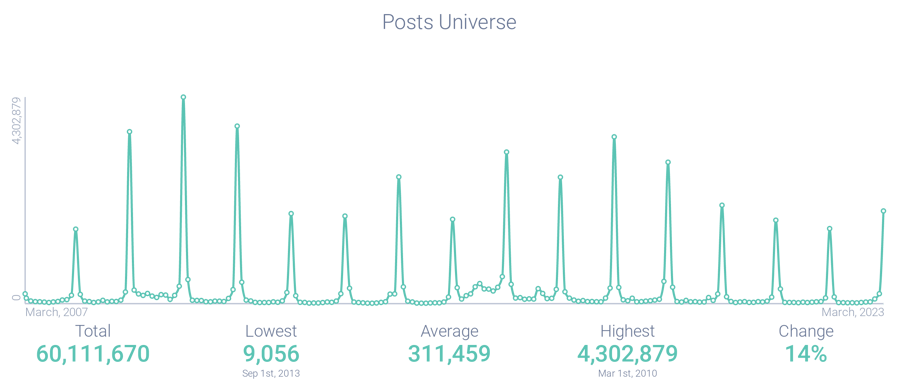 Figure 1: March Madness post volume from 2007 through the present; Infegy Atlas data.
Purdue fans' negativity overshadows Fairleigh Dickinson fans' celebration
During our social listening dive, we found that fans' social media outpourings were more focused on expressing negative responses surrounding a top-seeded team's loss rather than celebrating an underdog's victory. This reaction supports the theory of human negativity bias, i.e., humans tend to pay attention to more negative events than positive ones.
Additionally, negative emotions like anger or fear generally evoke strong reactions, which promote engagement from basketball fans. One social media, this translated into post volume. We found that both post volume and sentimental topic analysis corroborate that Purdue fans dwelled on the loss substantially more than Fairleigh Dickinson fans celebrated their victory on social media.
Purdue basketball overwhelms Fairleigh Dickinson post volume
After conducting an audience segment analysis over the last 90 days, we detected 127,795 posts attributed to Purdue Basketball fans, compared to a mere 1,094 posts from Fairleigh Dickinson basketball fans. First of all, this significant disparity suggests that Purdue Basketball has a more durable online following.
In addition, Purdue fans are more immersed in the team's online community. Despite the groundbreaking loss, there was substantial conversation from Purdue fans about their loss, while Fairleigh Dickinson fans fell relatively silent just days after the big win.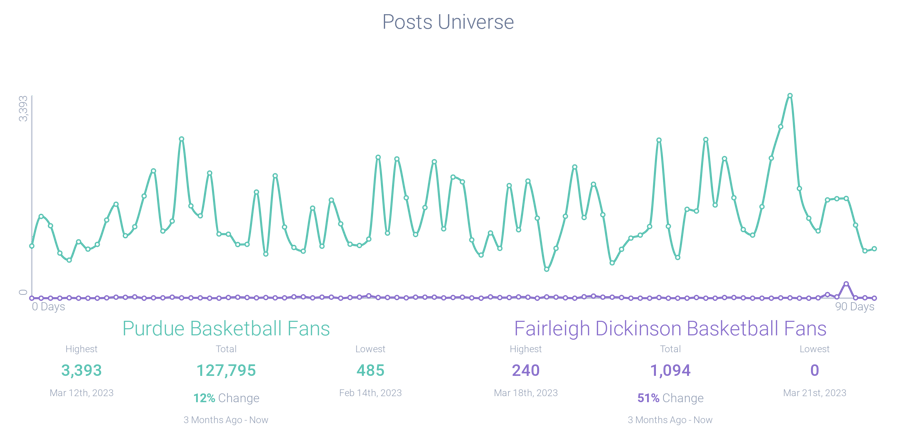 Figure 2: Self-described Purdue versus Fairleigh Dickinson basketball fan post volume; Infegy Atlas data.
Social intelligence data on Purdue fan grievances
During our linguistic analysis of Purdue fan conversations, we found fixation on grievances associated with the game: we detected complaints against the referees and Purdue's offense and defense. The word "Purdue" itself showed up as the predominant negative keyword. The word "Fraud" appeared in the Fairleigh Dickinson negative sentiment word cloud, but diving into posts, we found that it actually referred to Purdue, not Fairleigh Dickinson itself.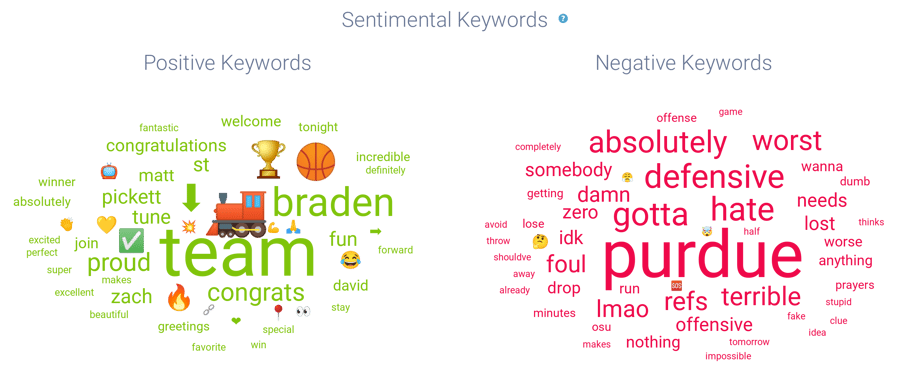 Figure 3a: Sentimental keywords attributed to Purdue fans; Infegy Atlas data.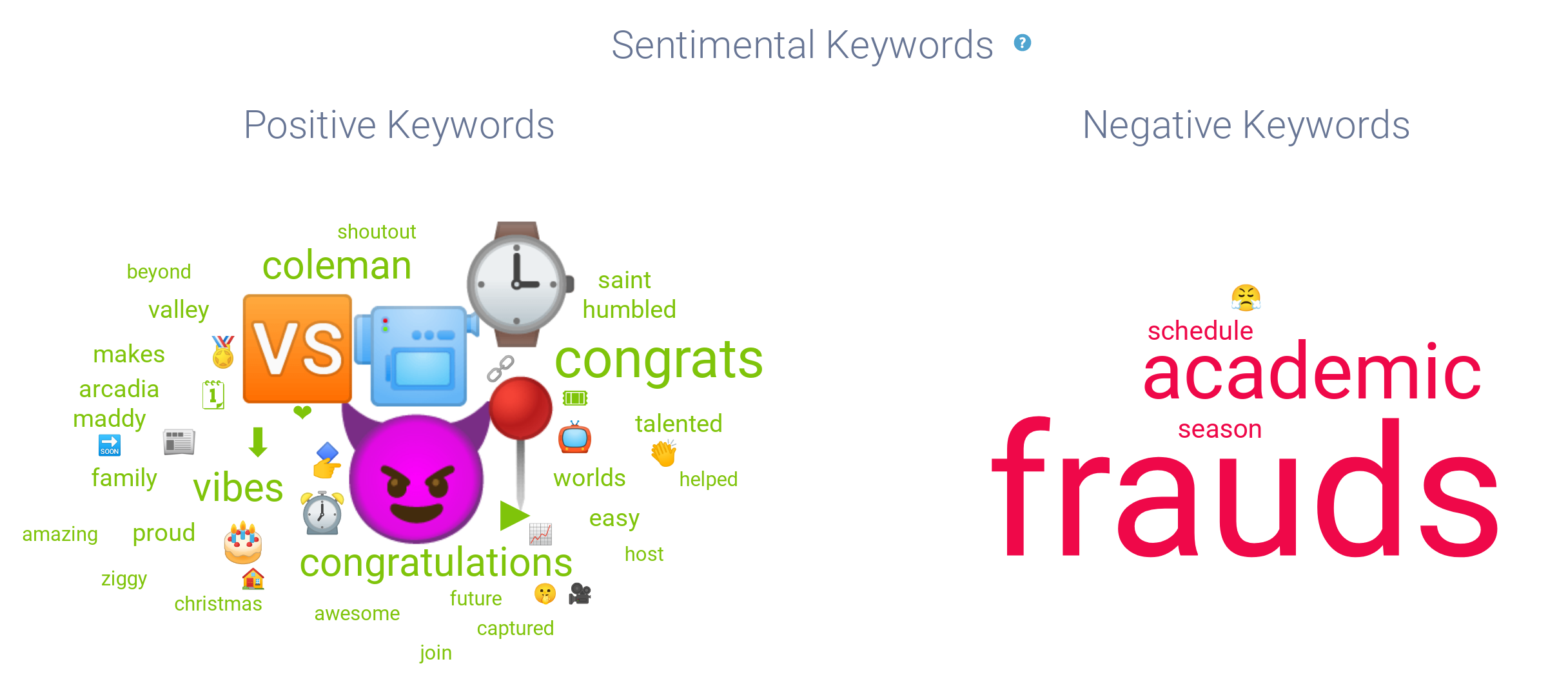 Figure 3b: Sentimental keywords attributed to Fairleigh Dickinson; Infegy Atlas data.
Sentiment and Emotions analysis: "same but different" findings.
Infegy Atlas Sentiment Analysis and Emotion metrics of March Madness conversation reveal some intriguing results. A single event can elicit starkly contrasting feelings and emotions among fans of different teams. This showcases the power of these high-stakes moments in shaping fan experiences.
For example, we found that fanbases use the same hashtag, #cinderella, but with differing sentiments. Also, Emotions analysis revealed that surprise was a common emotion in conversation from both fanbases, but Purdue fans expressed predominantly negative sentiment, a natural outcome of their team's loss. Let's take a closer look.
Examination of "#cinderella" highlights the importance of context in sentiment analysis
We examined how different fanbases utilized the same hashtag, #cinderella, but in very different ways. Commonly used in March Madness, #cinderella refers to teams that defy expectations and progress far in the tournament. Purdue fans employed #cinderella in a predominantly negative way, while Fairleigh Dickinson fans used it in a much more positive manner. This differing usage underscores the importance of contextual awareness when analyzing online sentiment, as different audiences may use the same word with varying meanings and intentions.
Figure 4: Hashtags associated with #cinderella colorized by sentiment; Infegy Atlas data.
Surprise unites both fanbases
Infegy Atlas Emotions show that Surprise was the leading metric in both cases (Emotions measures the percentage of the conversation that contains. However, Purdue fans experienced anger, disgust, and sadness in the game's immediate aftermath.
Conversely, Fairleigh Dickinson fans expressed joy and anticipation as their predominant emotions. These differing emotions highlight the significance of contextual awareness when interpreting social media sentiment, which can be crucial for businesses and organizations when engaging with their target audiences.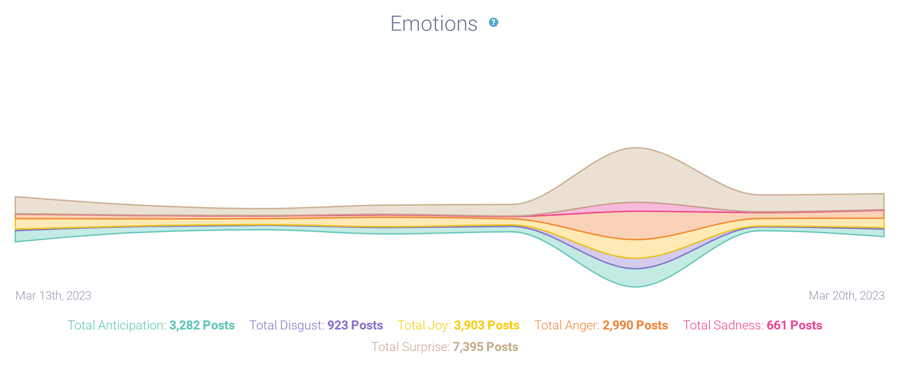 Figure 5a: Purdue fans' emotions before and after their loss; Infegy Atlas data.
Figure 5b: Fairleigh Dickinson fans' emotions before and after their loss; Infegy Atlas data.
Context and audience segmentation are key to social intelligence analysis
The social listening dive into March Madness conversations reminded us how vital audience segmentation is when assessing responses to big events. It's also essential to ensure that linguistic analysis tools account for context!
Social media emotions during March Madness 2023 reveal that fans tend to focus more on the negative aspects of a top-seeded team's loss than the underdog's success. The analysis of emotions and sentiments expressed by Purdue and Fairleigh Dickinson fans during their historic matchup offers a unique perspective on the impact of unexpected outcomes in sports.
Stay up-to-date with Infegy insights by subscribing to our blog