Social Listening Strikes a Chord
How social listening tools can detect emerging TikTok artists and music
Henry Chapman, Research and Insights Analyst
At Infegy, we have a passion for music, and we love seeing how the music we love spreads online. Since its launch, TikTok has become the go-to platform for artists to showcase their music. Infegy's unique TikTok data collection is different in the social listening space, delivering insights into how music becomes and retains its popularity online. This overview will discuss three types of artists and how social listening can measure their online popularity.
The popular artist - Some famous artists use TikTok to grow and engage with their fanbase. We'll use the resurgence of Justin Bieber's 2015 hit "What Do You Mean?" to show how popular music can continue to expand its online reach.
The new artist - Some new artists use the platform to get noticed and discovered. For example, we'll use GAYLE's sleeper hit "abcdefu" from 2021.
The older artist - Older artists can also experience a revival in their careers through TikTok. We'll take you back to The Shangri-Las 1964 pop ballad, "Remember (Walking in the Sand)".
Social listening can help brands understand how these artists use TikTok and create strategies to support their goals and connect with their audience. Let's show you how audiences react to these three categories of artists on TikTok.
First, we'll examine Justin Bieber's "What Do You Mean?" Justin Bieber is one of the most prominent artists in the world, so it's not surprising that his music is all over TikTok. What's more surprising is the resurgent growth of the song despite the fact it came out six years before this surge. We looked at the TikTok isolated post volume and saw that the "What Do You Mean?" related post volume surged in early 2022. Additionally, unlike many "flash in the pan" trends we analyze, Bieber's song appeared to have volume durability as well, gradually decreasing back to its average in October 2023.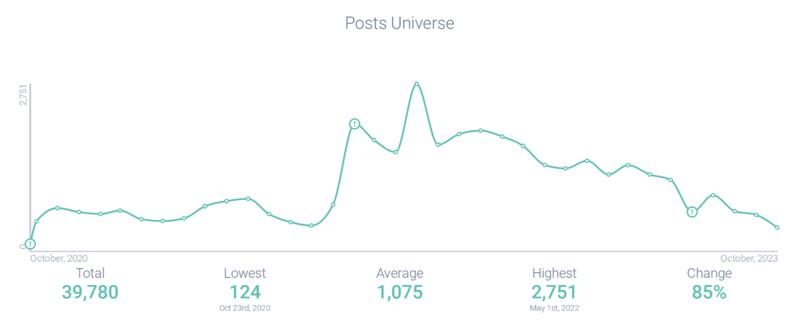 Figure 2: "What Do You Mean?" TikTok post volume (October 2020 through October 2023); Infegy Atlas data.
Next, to get a flavor of the type of conversation, we'll turn to the most predominant hashtags within the caption.. Interestingly, most of these hashtags have little to do with Justin Bieber. You can see an eclectic view of different TikTok communities (#momsoftiktok, #dogsoftiktok, and #dndtiktok). The most predominant hashtags, however, are #fyp and the #foryoupage, the most viral content on TikTok. Based on this appearance, TikTok creators use Bieber's song to attribute familiarity to their content to attempt to boost their virality.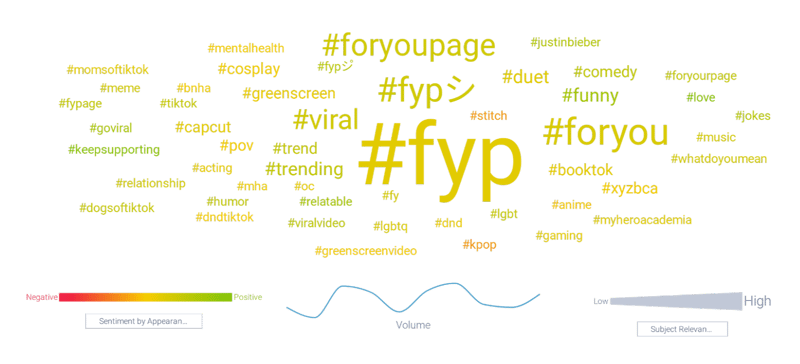 Figure 3: Top TikTok hashtags related to Justin Bieber's "What Do You Mean?" (October 2020 through October 2023); Infegy Atlas data.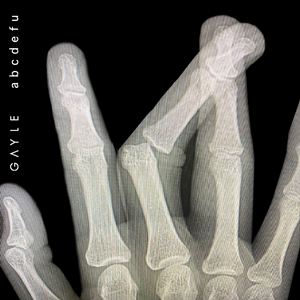 Figure 4: Album cover of GAYLE's "abcdefu"
Next, we'll look at GAYLE, a newcomer to the popular music space who got discovered on TikTok. She has a different profile than the megastar we looked at before. Noted by the post volume in Figure 4, she had zero post volume interest from October 2020 until she released her song. You saw the tiny attention bump after she released her song in August 2021. Next, you'll see a massive spike in attention - this occurred after the algorithm took over and propelled the song to every TikToker's feed.
You'll note the next bump. This final surge of attention occurred in February 2022, when GAYLE's song was nominated for a Grammy Award. This pattern is typical for popular, award-nominated content: initial excitement resulting in a drop off of attention with a surge around awards season, bringing new attention to the music.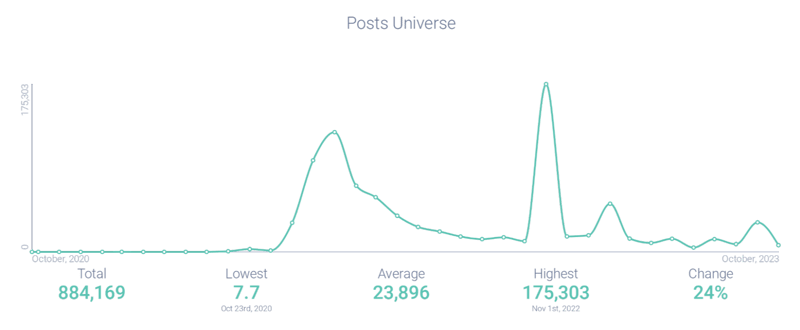 Figure 5: Post volume attributed to GAYLE"s "abcdefu" (October 2020 through October 2023); Infegy Atlas data.
Next, we'll look at the hashtags attached to the song. These hashtags look different than the ones for Justin Bieber. #FYP and other viral, TikTok-specific hashtags are much less prominent. Instead, they're replaced by hashtags relating to #gayle. Most of these are overwhelmingly positive. GAYLE didn't win the Grammy so that accounts for the negativity around the Grammy-related conversation.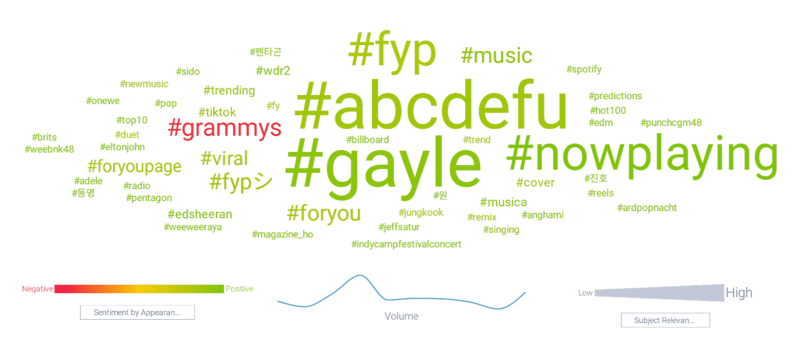 Figure 6: Top hashtags attributed to GAYLE's "abcdefu" (October 2020 through October 2023); Infegy Atlas data.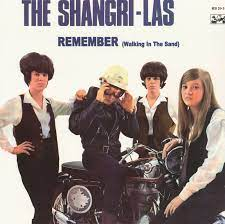 Figure 7: The Shangri-Las "Remember (Walking in the Sand)" album cover
Our last type of artist is the older artist, whose content has surged over the previous decade. We'll look at the Shangri-La's pop divas of the 1960s. Before TikTok, their content had been relegated to oldies radio stations and vinyl shops. However, TikTokers began using a sped-up version of their 1964 smash, "Remember (Walking in the Sand)," to depict fake melancholic moments within their lives.
We can quantify this usage by using a post volume graph. You can see just how popular the song was during TikTok's early days in 2018 when it became popular in the United States. While volume has decreased, it is remarkable that this song from 59 years ago garnered 302,847 posts.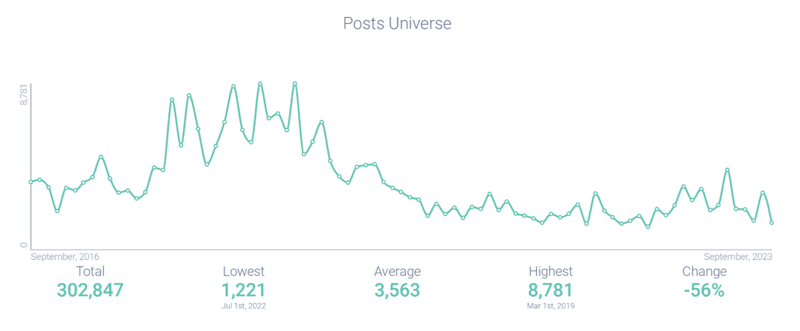 Figure 8: Post volume related to the Shangri-La "Remember" (September 2016 through September 2023); Infegy Atlas data.
We've saved our best graph for last. We looked at the age distribution of users who discussed the song. We found the ever-elusive trimodal age distribution. (A trimodal distribution is one with 3 major peaks.) While the highest age distribution occurs among people aged 55 through 64, the next highest is among users aged 13 through 18. This distribution shows how the right song can penetrate generations and retain meaning for a multigenerational audience.

Figure 9: Trimodal age distribution attributed to the Shangri-Las "Remember" (September 2016 through September 2023); Infegy Atlas data.
Like Infegy's unique TikTok data collection, social listening data can be a game-changer for brands and advertising agencies. It helps them understand and adapt to the evolving music landscape on TikTok, benefiting three distinct types of artists: the popular, the new, and the older. For famous artists like Justin Bieber, it reveals the enduring power of music and how it continues to resonate with fans. For new artists like GAYLE, it showcases TikTok's role in catapulting them to stardom. Even older artists like The Shangri-Las can find newfound relevance through TikTok's younger users. This insightful data empowers brands and advertising agencies to create more effective strategies, connect with their target audiences, and ultimately harness the value of social listening in the ever-evolving world of music and marketing.
Stay up-to-date with Infegy insights by subscribing to our blog