Try That Fast Car in a Small Town
Using social listening to expose divisions in country music
Henry Chapman, Research and Insights Analyst
Looking at country's divisions
Since Lil Nas X and Billy Ray Cyrus's 2019 "Old Town Road," country music crossovers have exploded into mainstream consciousness. While these bridges have linked some disparate communities (i.e. hip hop fans and country music listeners), they have also alienated others. Two songs from the summer of 2023 epitomize this division: Luke Combs' cover of Tracy Chapman's Fast Car and Jason Aldean's Try That In A Small Town. Combs represents country music's younger future direction, while Aldean sticks to the traditional country roots.
Using Infegy Atlas's social listening data, we can better understand the two distinct audiences' thoughts and feelings. We'll show how these two songs are "country" in name only and represent completely different fan bases and audiences. Finally, we'll link these divisions in country music to our country's more significant political divisions. We'll show how it's not just about the music but the more extensive divisive patterns in American culture.
A primer on country music's changes
Over the past few years, country music has experienced notable divisions within its fanbase. These divisions started in earnest in 2019 with the release of chart-topping Old Town Road, which became a massive mainstream hit with 1.1 billion views on YouTube. The song, performed by Atlanta rapper Lil Nas X, and featuring Billy Ray Cyrus, showcased how country music can bridge gender gaps and appeal to a diverse audience. While some country artists embraced this genre-blending approach, others have chosen to stick to country music's more traditional roots, preserving the classic elements of the genre like Lap Steel guitars and rural topics.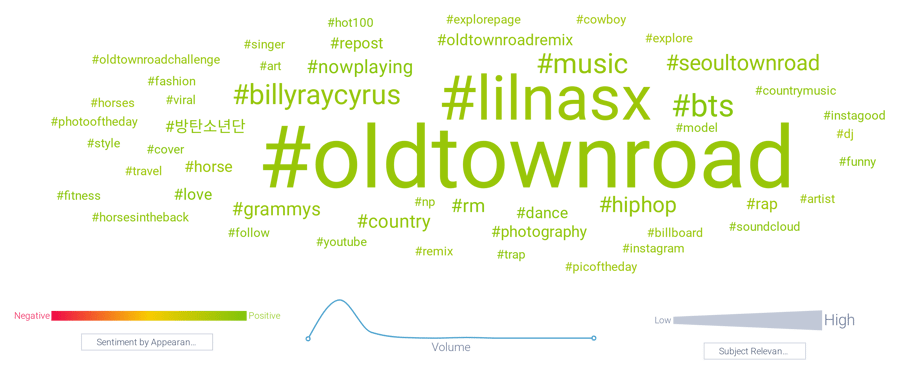 Figure 1: Top hashtags colored by sentiment about "Old Town Road" (August 2018 through August 2023); Infegy Atlas data.
Fast forward to the summer of 2023, we have the juxtaposition of Combs's Fast Car versus Aldean's Try That In A Small Town. Tracy Chapman, a queer woman of color, originally wrote Fast Car in 1988. 35 years later, this summer, she became the first black woman to score a country number one with a solo composition.
Paradoxically, Aldean's song also became a significant hit, reaching No. 1 on the country charts and No. 2 on the all-genre Billboard Hot 100. However, the song has caused controversy, with some accusing it of promoting gun violence and being anti-Black. The music video, featuring images of protests, riots, and lynching sites, has drawn criticism for its divisive and coded messaging. Despite the complaint, the song has resonated with a portion of the country's audience, reflecting the ongoing divisions within the country music community.
Comparing post volume and sentiment
We'll start our analysis with post volume and sentiment as we typically do. These are great places to begin our process because it gives us historical context before diving into more specific linguistics topics.
First, we'll look at the post volume. Both songs topped the country music Billboard Charts. However, "Try That In A Small Town" got nearly ten times higher post volume than "Fast Car," which is typical for more political-related topics. As topics get sucked up into political Twitter accounts, volume can explode. These political accounts have more followers and diverse reach than traditional country music accounts.
The timing of post volume growth for both songs was unusual. Combs's "Fast Car" cover had minimal post volume until it was officially released, even though it had been a cover in his live shows for years. On the other hand, "Try That In A Small Town" was released in May 2023 but gained significant post volume only after Aldean released the music video in late July 2023. This got picked up by conservative Twitter accounts thereafter.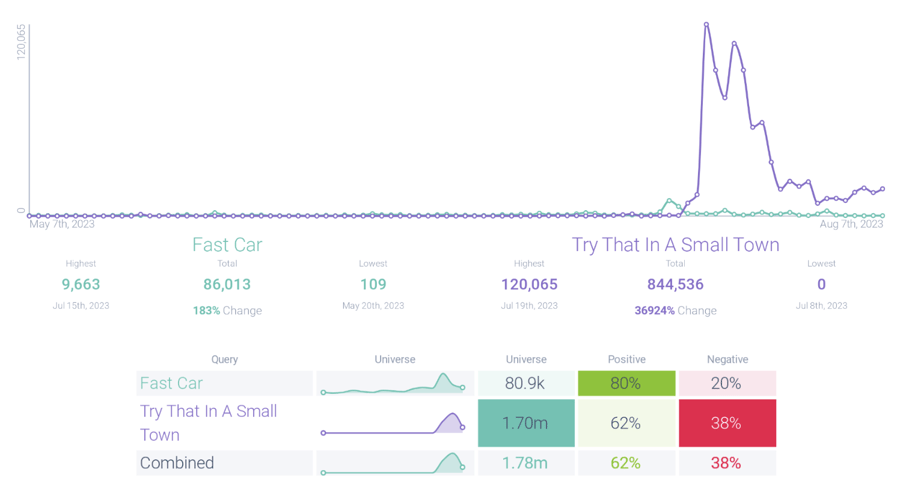 Figure 2: Post volume and sentiment about "Fast Car" and "Try That In A Small Town" (May 7, 2023 through August 7, 2023); Infegy Atlas data.
Comparing the top Topics between both songs
Now that we've got a better understanding of both song sentiment and context, we'll jump into a linguistics analysis - this gives us a better granular knowledge of what specific topics are underlying those sentimental and post volume shifts we discussed above. For "Fast Car," the sentiment is mostly positive, and Tracy Chapman, the original artist, is a prominent figure in the discussion. Her music is experiencing a revival, and we also see mentions of Taylor Swift (on her Eras Tour) and Morgan Wallen (a country music star).
On the other hand, "Try That In A Small Town" has mostly negative sentiments. Social media users criticized aspects of Aldean's music video, such as the depictions of "violence" and the "courthouse." Many users saw the video as racially charged, with some even saying it was a "pro-lynching" video.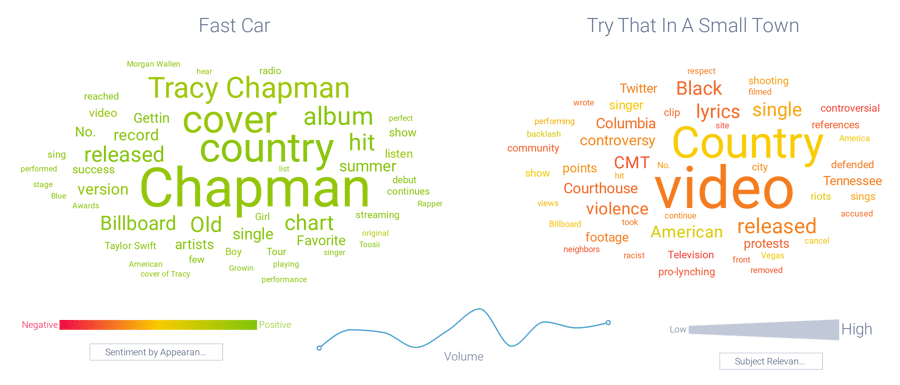 Figure 3: Top Topics about "Fast Car" and "Try That In A Small Town" (May 7, 2023 through August 7, 2023); Infegy Atlas data.
Source bio, mentions, and Source Interests
Thus far, we've looked at how the two songs differ in their conversation. We'll now conduct an audience analysis to determine why they vary so much. There are various ways to use social listening data - we'll do it here with a source bio analysis and an aggregated version of audience interests.
Who is talking about each song?
First, we'll take a look at source bios. These are a collective look at the top topics within each social media account's descriptive field. They're a great way to understand an audience because we're looking at the words people use to describe themselves.
In this word cloud, we've colored them by topic cluster, not sentiment. You'll note that "Fast Car" has a much more diverse series of categories. These clusters mention "music" and "country" but also have different genders ("Mom" and "Husband"), professions ("Teacher" versus "Writer" versus "Producer"), and interests. This diversity differs quite a bit from "Try That In A Small Town," which has a universal politically conservative cluster. Aldean's song saw very little variety within their source bios.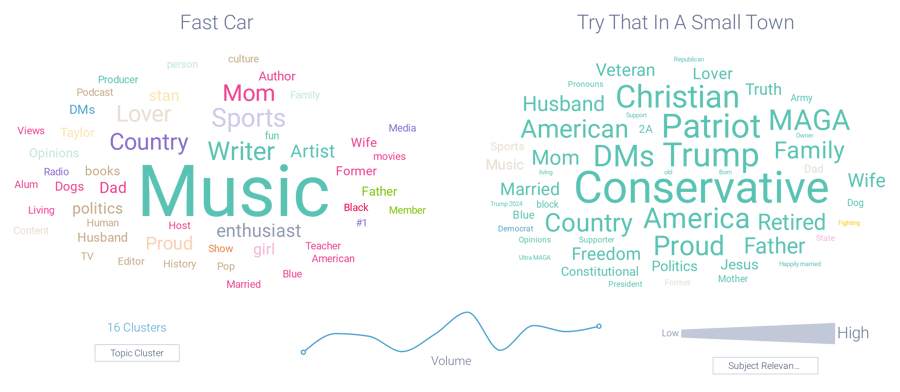 Figure 4: Source bios about "Fast Car" and "Try That In A Small Town" (May 7, 2023 through August 7, 2023); Infegy Atlas data.
What are the audiences' interests?
Now that we've looked at the specific words that people talking about, "Fast Car" and "Try That In A Small Town," used to describe themselves, we'll look at an aggregated view of their interests. A surprising amount of computational power generates these comparative bar charts. For each account talking about each query, we categorize the entire posting history of each account to get a general idea of what topics it discusses.
We found some commonalities between both audiences but also stark differences. We found that people talking about Aldean's song were more than twice as likely to mention politics and crime and almost three times as likely to talk about elections. Conservative political topics dominate Aldean's song. Elections and crime are two hallmark issues associated with the 2024 Republican political platform.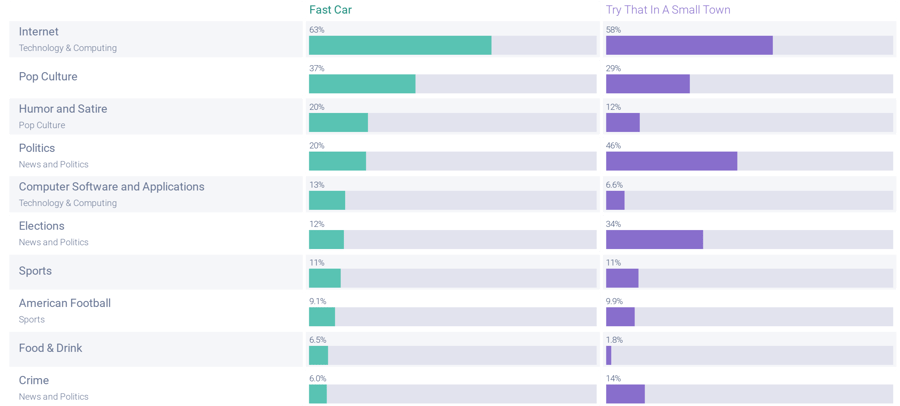 Figure 5: Source Interests about "Fast Car" and "Try That In A Small Town" (May 7, 2023 through August 7, 2023); Infegy Atlas data.
Let's go a bit deeper into demographics
Now that we've understood source bios and interests let's look at the gender and age demographics of who's talking about each song. These will reinforce what we alluded to at the beginning: despite sharing a genre, country music has divisions that mirror the divisions in the rest of the country.
First, we'll look at the gender demographics attributed to each song's conversation. We found that women were slightly more likely to discuss "Fast Car" versus men (51% versus 44%). Interestingly, non-binary individuals were more than ten times more likely to discuss Fast Car versus "Try That In A Small Town." This disparity suggests that while Tracy Chapman is not particularly vocal about her sexuality, she's still influenced modern LGBTQ+ folks.
Figure 6: Gender demographics about "Fast Car" and "Try That In A Small Town" (May 7, 2023 through August 7, 2023); Infegy Atlas data.
Finally, we'll examine the age demographics between both songs. Infegy calculates ages using keywords in accounts' post histories (e.g., birthday wishes) and source bio descriptions. Here, the results were stark. "Fast Car" led every audience category from age 13 through age 44 in both distribution and sentiment. "Try That In A Small Town" led in every category from age 45 through over 65 in volume and sentiment. This age histogram highlights the great divide between different audiences that both enjoy different kinds of country music and shows these audiences have less in common than an outside observer would imagine.

Figure 7: Age distribution about "Fast Car" and "Try That In A Small Town" (May 7, 2023 through August 7, 2023); Infegy Atlas data.
An explosive new addition
Within the last week, a new explosive entry from unknown singer Oliver Anthony emerged within conservative country music. Anthony released "Rich Men North of Richmond" on August 11, 2023. Hailing from Farmville, Virginia, Anthony, a farmer and country singer, uploaded the song's video on August 8, 2023, which quickly gained popularity with over 5 million views in three days.
In the song, Anthony, who identifies himself as a voice for the working class, expresses their struggles to make progress despite their efforts. The lyrics touch on themes popular among Republicans, such as high taxes and welfare misuse. The song has garnered support from notable figures like Republican Congresswoman Marjorie Taylor Greene, country singer John Rich, and conservative commentators Dan Bongino and Matt Walsh.
Rolling Stone's Joseph Hudak describes the song as a fervent critique of the country's current state, noting that Anthony incorporates elements of Reagan-era discourse on welfare and references to Jeffrey Epstein. In the song, Anthony hopes for politicians to prioritize the well-being of workers.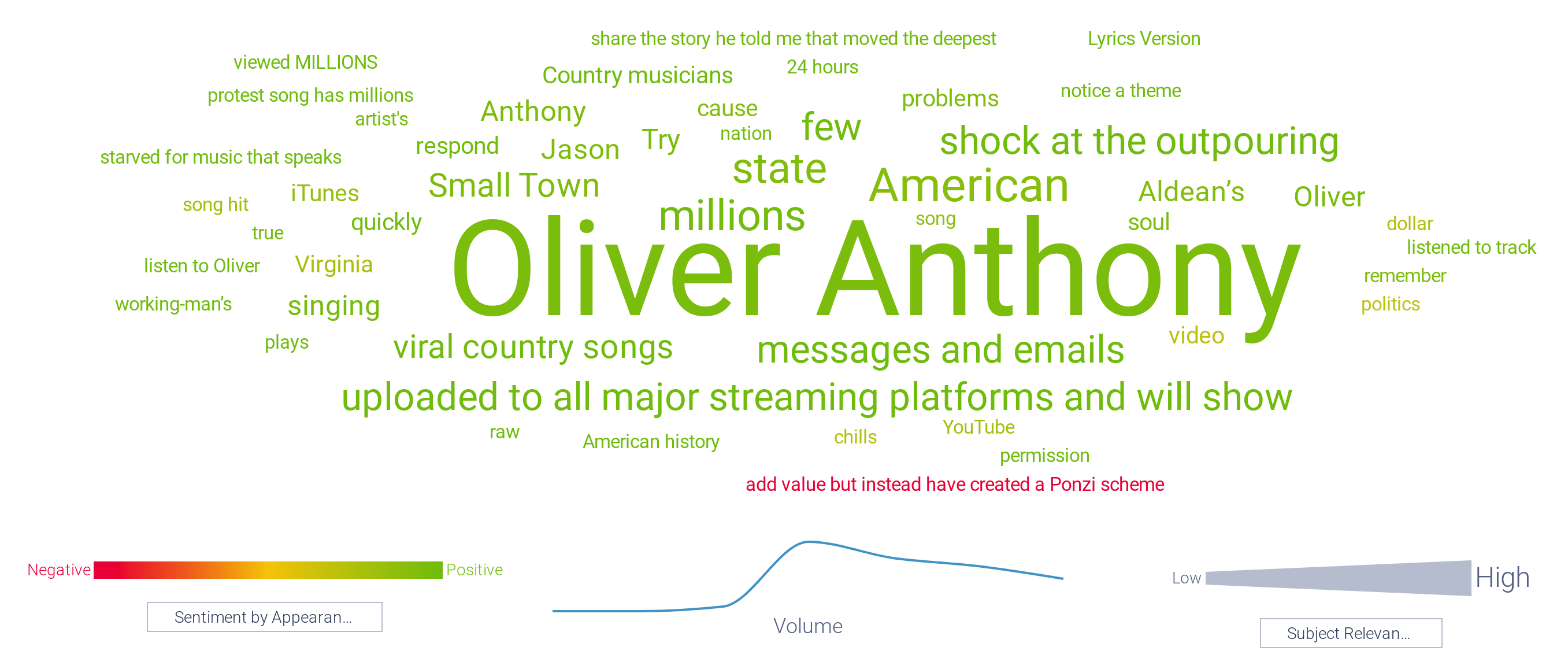 Figure 8: Topics pertaining to "Rich Men North of Richmond" (August 8, 2023 through August 14, 2023); Infegy Atlas data.
Country music is more divided than ever. Luke Combs' cover of Tracy Chapman's "Fast Car" and Jason Aldean's "Try That In A Small Town" represent distinct and isolated fanbases, reflecting the ongoing evolution and diversification of country music. While Combs' cover embraces a more diverse and genre-blending direction, Aldean's song adheres to traditional conservative political roots, resulting in contrasting sentiments and post volume. Moreover, the audience demographics demonstrate age and gender disparities, with "Fast Car" appealing to a younger, more diverse crowd, and "Try That In A Small Town" resonating predominantly with an older, conservative audience. This division within country music mirrors broader political divisions in American culture, highlighting the power of music to both bridge communities and exacerbate existing divides. Understanding these trends is crucial for artists, marketers, and policymakers seeking to navigate and address the evolving landscape of country music and its broader societal impact.
Stay up-to-date with Infegy insights by subscribing to our blog