Top 3 predictions we got right and wrong
by Henry Chapman on August 14, 2023
A scorecard of how a year of Infegy's Insight Brief predictions have shaken out
August 2023 marks the first anniversary of Infegy's Insight Briefs. After publishing 42 so far, we've shown how social listening data is a fantastic tool for keeping tabs on your industry's performance and foreseeing potential future trends. Here, we will showcase our most accurate predictions, including the dates we made them. But hey, we believe in being honest and reflective, so we'll also review the predictions that didn't quite hit the mark as we hoped. Stay tuned for some insightful reflections!
Predictions we got right
First, we'll take a look at what we got right. We saw key indicators like flagging sentiment, increased post volume, and dropping Intent to Purchase.
Buy Now Pay Later
Publication Date:
August 18, 2022

What we said:
Buy Now Pay Later (BNPL) is a popular new way of borrowing that allows consumers to split purchase payments into several smaller installments. Companies like Klarna and Affirm offer short-term, interest-free loans to customers, profiting through transaction fees charged to merchants. However, as the economic climate shifted with rising inflation and interest rates, we showcased how concerns about BNPL increased. We found rising negative sentiment associated with debt, hidden payments, and potential repayment issues. With consumer confidence dropping and venture capital becoming scarce, we predicted as inflationary challenges persist, caution is warranted, and the BNPL industry's stability may face further scrutiny.


Figure 1: Sentiment graph for BNPL providers. Sentiment for BNPL peaked around January 2022 before dropping over the next six months. (2012 through 2022); Infegy Atlas data.

Figure 2: Negative word cloud for BNPL providers. Note the appearance of "debt," "protection bureau," and other terms that highlight its associated risks. (2012 through 2022); Infegy Atlas data.
What happened:
The "Buy Now, Pay Later" (BNPL) lending sector, once a rapidly growing area in financial technology, faced significant challenges in 2023. With rising interest rates, these BNPL loans have become more costly. Passing these higher costs onto customers was difficult, leading to an existential crisis for the industry. Significant players like Klarna and Affirm have struggled to profit, valuations have plummeted, competition has increased, and regulators are scrutinizing lending practices. In short, BNPL has yet to prove to be the lucrative venture many hoped for.
Dollar Tree's Price Increase
Publication Date:
August 18, 2022

What we said:
We said Dollar Tree successfully executed a business pivot by raising prices on most goods to $1.25 per item, responding to supply chain constraints and economic conditions. Despite the risk of changing its identity as an "everything's a dollar" store, Dollar Tree reported a significant growth in earnings per share, and social listening data showed overall positive sentiment from its niche customer base, mainly middle-aged women interested in crafting. The pivot worked because Dollar Tree's customer base in rural and urban areas had limited purchasing options, and the negative sentiment expressed online after the price increase was temporary and quickly returned to normal.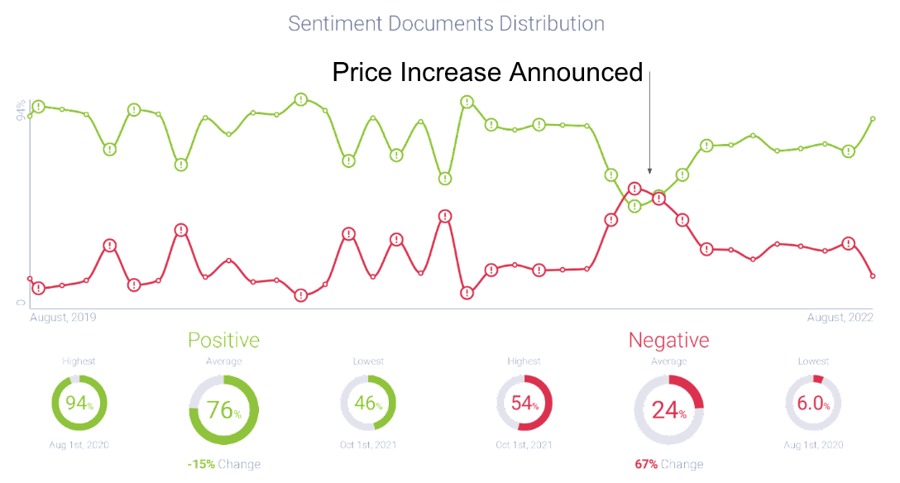 What happened:
Dollar Tree's decision to raise prices from $1 to $1.25 after 35 years of sticking to the $1 price point has proven successful. The higher prices have contributed to an 8.6% increase in sales, allowing the company to introduce previously unavailable merchandise and draw new shoppers. The move has shielded Dollar Tree from significant customer blowback, as other companies have also raised prices due to inflation. While cautious about the company's long-term prospects, Wall Street recognizes the positive impact of the price increase on sales and product selection.
Apple Card's Troubles
Publication Date:
October 6, 2022

What we said:
Goldman Sachs introduced the Apple Card in partnership with Apple to expand into the consumer credit market. Apple emphasized accessibility, leading to a surge of interest and signups from a broad user base. However, Goldman approved many applications despite having lower credit scores, as social media posts revealed some users lied about their applications. This lying led to a significant rise in risk indicators, with a 200% higher default rate for Goldman's Apple Card compared to other similar credit products. The increase in risky borrowers posting about credit repair and restoration hashtags further indicated potential credit issues. As interest rates continue to rise, we said the high default rate posed significant concerns to Goldman Sachs amid economic uncertainty.


Figure 4: A collection of posts showing Apple Card customers posting about irresponsible card use. (August 2019 through August 2022); Infegy Atlas data.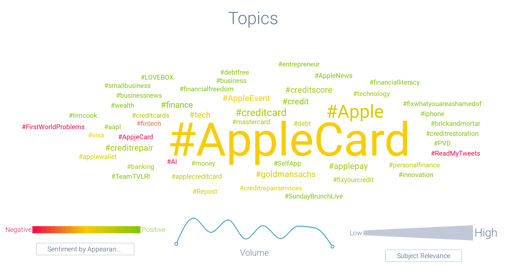 Figure 5: Apple Card-related hashtags showing how credit repair services often appear when users mention Apple Card (August 2019 through August 2022); Infegy Atlas data.
What happened:
Goldman Sachs revealed nearly $500 million in losses from its efforts to expand into loans and savings products for consumers. Many of those losses come straight from Apple Card. The bank has sold off some consumer loans and admitted defeat on others, facing setbacks in its consumer banking arm, Marcus. Despite making $3.2 billion in the first quarter, the continuous losses in the consumer business remain a concern. Goldman's CEO, David M. Solomon, has expressed interest in getting out of the consumer banking business, but the bank still holds billions of dollars of consumer loans on its books.
Predictions we got wrong
We're not perfect at Infegy, and we'll be the first to admit it! Not all of the predictions we made in our Insight Briefs came true. We'll now go through our three most significant stinkers and talk about how events shook out.
Netflix's Password Crackdown
Publication Date:
March 15, 2023

What we said:
Netflix started cracking down on password sharing to generate more revenue, which the company previously tolerated. This move has led to negative sentiment, especially in Latin America, where broadband access is lower, and customers were frustrated about needing a home WiFi network to access the service. We said the crackdown would result in increased customer churn and discussions about returning to digital media piracy. We said this would serve as a cautionary tale for brands compromising their original values for revenue.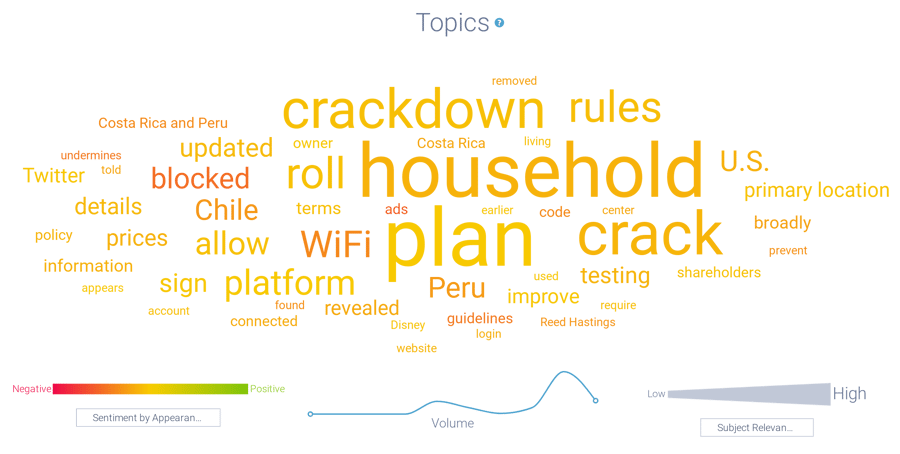 Figure 6: Word cloud showing topics related to Netflix password sharing (December 2022 through March 2023); Infegy Atlas data.
What happened:
Netflix's password-sharing crackdown has resulted in robust subscriber growth, with 5.9 million new subscribers gained in the second quarter of 2023. The crackdown forced sharers to pay for their accounts, leading to increased revenue for the company. Netflix is also spending less on content due to the ongoing Hollywood writers and actors strikes, and it raised its free cash flow forecast to $5 billion. The company's focus on streaming and international presence sets it apart from competitors relying on traditional TV channels and theatrical releases.
While financial results looked promising for the brand, social media sentiment did drop 7.5% over the year. That change represents a big sentimental shift for the entertainment juggernaut. Dropping sentiment suggests that Netflix customers are still upset about the crackdown, even if the company hasn't taken a financial hit.
LIV Golf's Partnership with PGA
Publication Date:
February 3, 2023

What we said:
LIV Golf, a new golf league backed by Saudi Arabia, emerged as a significant challenge to the established PGA. Social media intelligence revealed that LIV Golf offers substantial differences compared to the PGA, attracting more passionate reactions and injecting fresh excitement into the sport. The league's emergence was fueled by the Saudi government's investment, aiming to sportswash controversial actions by its leader, Mohammed Bin Salman. LIV Golf injected billions of dollars into the game, causing controversy and division within the golf world. Meanwhile, the PGA faces a DOJ investigation and antitrust lawsuit due to its response to LIV Golf. Despite criticisms, we expected that LIV Golf would remain a challenger to the PGA for the foreseeable future.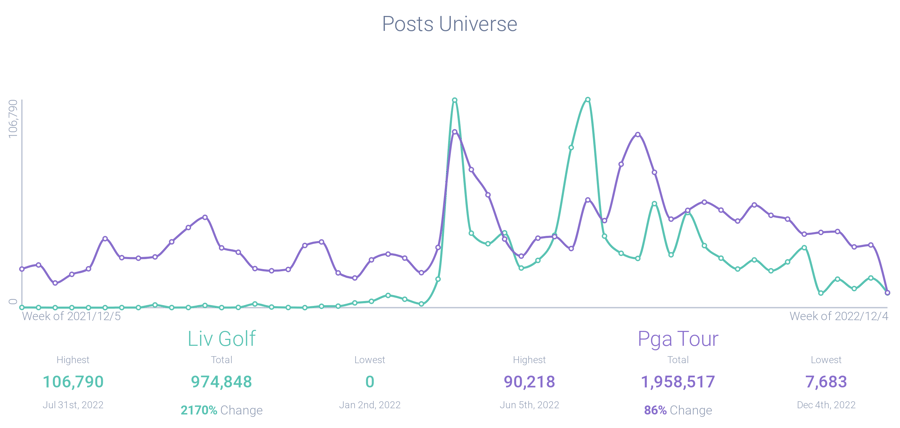 Figure 7: Post volume of PGA Tour vs. LIV Golf (December 2021 through December 2022); Infegy Atlas data.
What happened:
We're not sure anyone saw this coming. The PGA Tour and LIV Golf have agreed to join forces, creating a new entity that will combine their assets and change golf's governance. LIV Golf began in late 2021, luring PGA Tour players with massive purses and team competitions. Previously, players who joined LIV had to resign from the PGA Tour, leading to lawsuits and animosity between the leagues. The new partnership is still subject to approval, and many details have yet to be settled, including the values of assets and the future existence of LIV as a separate league. LIV players consider this a significant victory, while many PGA Tour players were blindsided and opposed the merger. The deal might face scrutiny from regulatory bodies like the Justice Department and Federal Trade Commission. Saudi Arabia's Public Investment Fund plans to invest billions into the new entity, potentially gaining more control and influence in men's professional golf.
2022's Economic Outlook
Publication Date:
August 25, 2022

What we said:
Amid inflation and recessionary fears, we said US consumers altered their spending behaviors, indicating a future recession. We pointed to three key indicators:
An increased interest in inexpensive retail (e.g., dollar stores)
Reduced interest in sparkling beverages in favor of cheaper options
An increased interest in cigarettes
Additionally, data from Infegy Atlas indicated a surge in recession and inflation-related posts, signifying growing consumer concerns. We predicted a recession in late 2022 or early 2023.


Figure 8: Post Volume on Recession-Related Topics (August 2019 through July 2022); Infegy Atlas data.
What happened:
The predicted recession in the US, expected to happen amid rising interest rates and high inflation, has yet to materialize. The job market remains strong, consumer spending and corporate profits are growing, and the housing market shows signs of stabilization. Inflation has slowed, leading to cautious optimism among economists that interest-rate increases may soon end. However, there are still risks, including the potential for inflation to be more stubborn than expected or for the steps taken by the Federal Reserve to cool the economy to have a delayed impact. While there are positive signs, economists are wary of declaring victory too soon and continue to monitor the situation closely.
Moving forward to next year's Insight Briefs
Infegy's Insight Briefs have demonstrated the power of social listening data in predicting industry trends and anticipating potential challenges. Our accurate predictions on the BNPL industry's instability, Dollar Tree's successful price increase, and Apple Card's troubles with risk indicators showcase the value of social insights for businesses.
Though not all predictions have proved correct, we continuously learn from our mistakes. Netflix's password crackdown yielded unexpected subscriber growth, LIV Golf's partnership with the PGA altered the golf landscape, and the 2022 economic outlook evolved differently than we anticipated.
We remain committed to providing valuable insights and refining our predictions as we move forward. Social listening data continues to be an invaluable tool, enabling businesses to make informed decisions and stay ahead in a dynamic market. Embracing change and leveraging social intelligence will empower enterprises to adapt, thrive, and secure their position in an ever-evolving world.