Finding an R+D edge with the power of social listening
by Infegy Research Team on August 18, 2023
In today's fast-paced, competitive marketplace, if your company isn't constantly innovating and evolving, you may fall behind. Yet, it can be difficult to know what new products or services will resonate with your target customers.
Fortunately, the insights provided by social listening platforms, such as Infegy Atlas, can give you a research and development (R+D) edge over your competition by equipping you with an in-depth understanding of your customers preferences, interests, emotions, and pain points. Using this data, your company can develop new products to meet your customers needs.
Here, we offer tips to help optimize your R+D efforts using the power of social listening.
Using social media to identify new consumer trends
Without a complete understanding of your target consumers' needs, your R+D efforts may fall short. Companies that can identify consumer trends are better able to anticipate consumers' future needs and develop products to meet those needs. Social listening provides valuable insights into consumer trends that can help you anticipate and develop products that resonate with customers.
Consider the recent growth in posts related to self-care.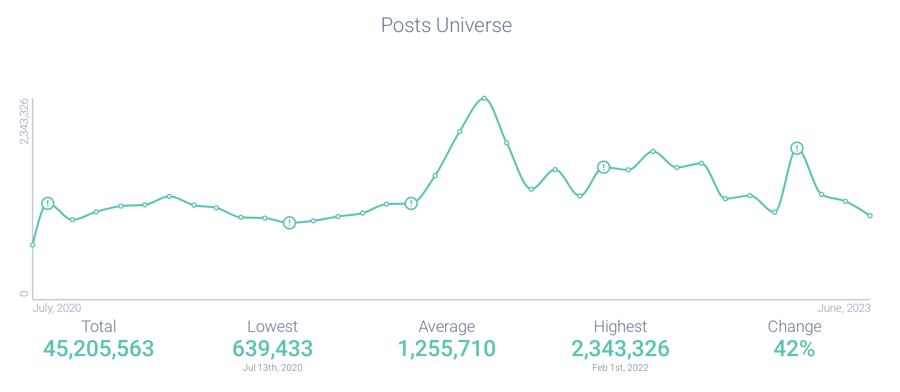 Figure 1: Post volume analysis regarding self-care; Infegy Atlas data, July 2020 through June 2023.
A company using social listening data would likely notice the sharp uptick in conversations regarding self-care in late 2022, and that the frequency of these conversations has remained elevated since that time (Figure 1).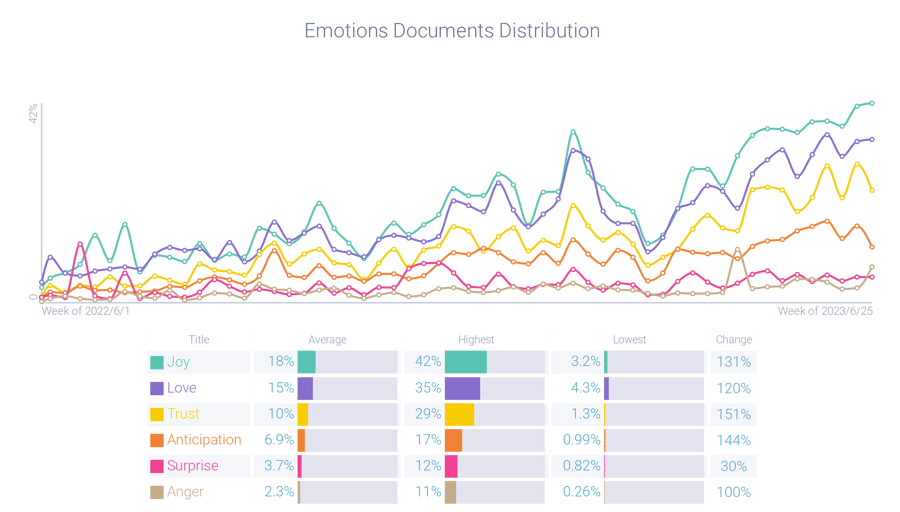 Figure 2: Emotions analysis surrounding self-care topics; Infegy Atlas data, June 2022 through June 2023.
Digging deeper, the same company may also notice that conversations surrounding self-care experienced high growth in positive emotions such as Joy, Love, Trust, and Anticipation (Figure 2).
Taken together, the increase in posts regarding self-care and the positive sentiment surrounding those posts likely indicates an upward trend in interest surrounding self-care. With this trend identified, a company may ask itself, "What products can we develop to capitalize on this growing opportunity?"
That question has the power to drive R+D efforts and allow the company to potentially launch a successful new product that meets the changing needs of its target consumers.
Using social media to identify specific product opportunities
Once you've identified a general trend, such as an increase in self-care conversations, you can use social listening insights to narrow down opportunities in a specific product area.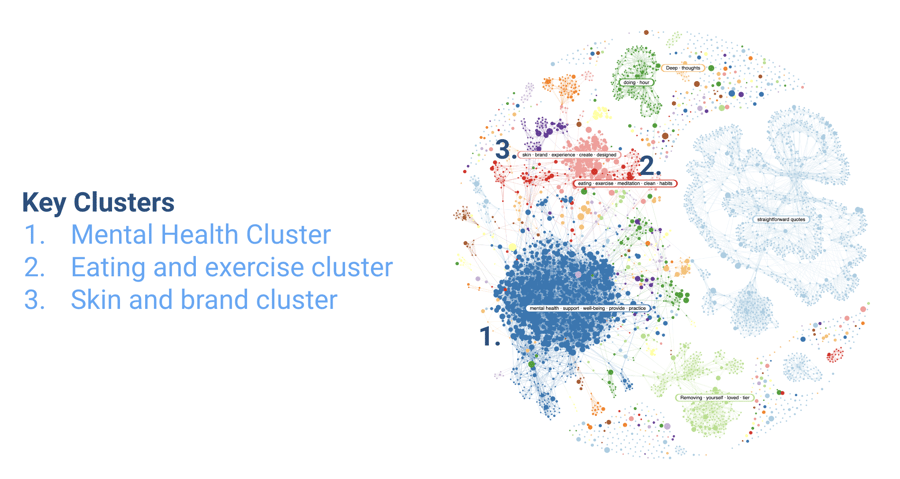 Figure 3: Cluster analysis regarding self-care-related topics; July 2020 through June 2023, Infegy Atlas data.
These clusters provide valuable insights that can help drive product development related to mental health apps, skincare/makeup, food product development, and more.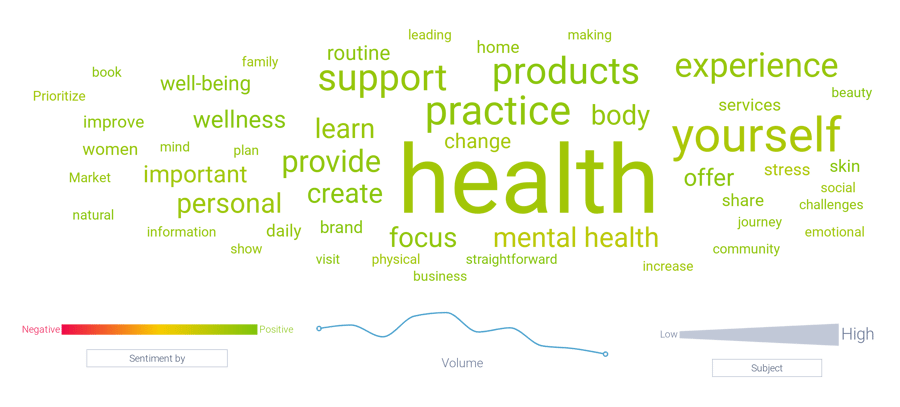 Figure 4: Keyword analysis of topics related to self-care; July 2020 through June 2023, Infegy Atlas data.
A keyword analysis provides additional insight (Figure 4). Specifically, consumers express positive sentiment (as indicated in green) surrounding ideas of mental health, support, health, wellness, and focus. This insight allows a company to more effectively channel product creation efforts, as well as funds, to areas that are most relevant to its target customers.
Bottom line – Social listening insights can help inform your R+D efforts and ensure you are developing products that address your target customers' specific interests and fulfill their needs.
Related: Read more about trends in the self-care and mental health industry in our latest e-book.
Using social listening to identify industries and jobs ripe for disruption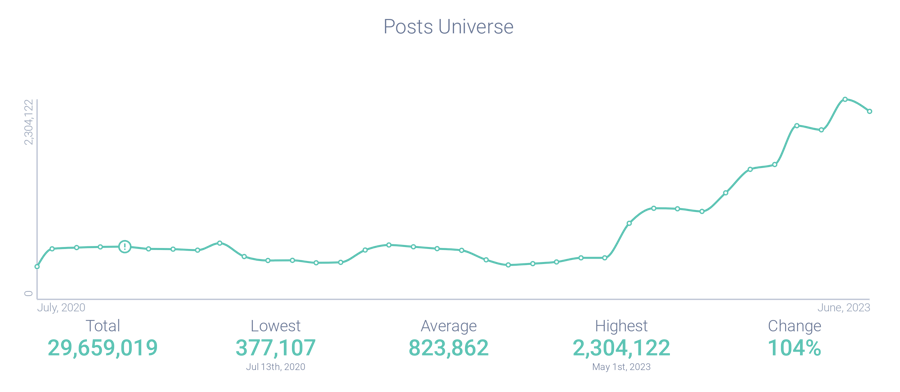 Figure 5: Post volume surrounding AI topics; Infegy Atlas data, July 2020 through June 2023.
Some trends are so apparent that you don't need a social listening tool to identify them. Take artificial intelligence, for example. After OpenAI released ChatGPT in November, AI and large language models have disrupted white-collar jobs, stock markets, and tech companies. AI-related topics have surged 104% over the last three years, with much of that post-volume growth occurring from late-2022 through early 2023.


Figure 6: Post volume attributed to the 2023 Hollywood writers' and actors' strikes; Infegy Atlas data, March 1, 2023 through July 30, 2023.
However, something that could be more obvious is the ability to identify those massive trends within a minor discussion. Let's look at the conversation about the 2023 Writers Guild of America and Screen Actors Guild strikes. This has been a massive conversation area, with over 4.8 million posts over the last five months.
How does this relate to artificial intelligence? Well, one of the significant points of contention between the unions and the producers is movie studios' willingness to replace writers and actors with content generated from large language modes. "Artificial intelligence" is very negative within a strike-related word cloud, meaning actors and writers want to ensure AI-powered technology doesn't replace them. Writers and actors want to ensure they are not displaced by AI, as there is a real fear among these creative professionals that AI systems will automate their roles.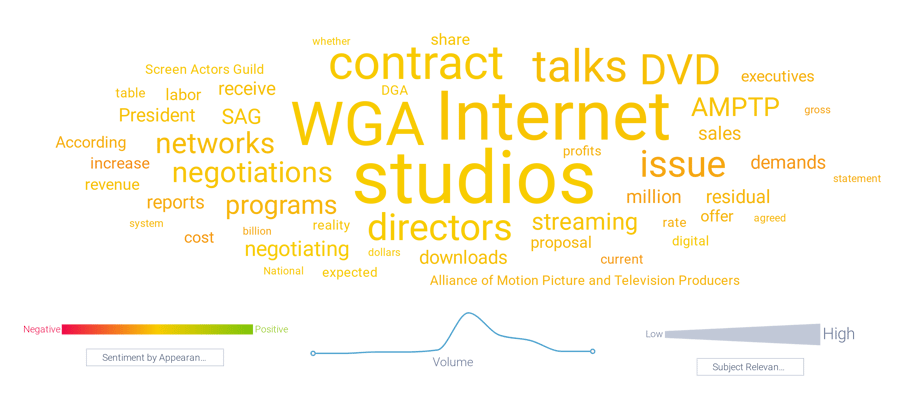 Figure 7: WGA and SAG Strike-related word cloud; Infegy Atlas data, May 14, 2023, through August 13, 2023.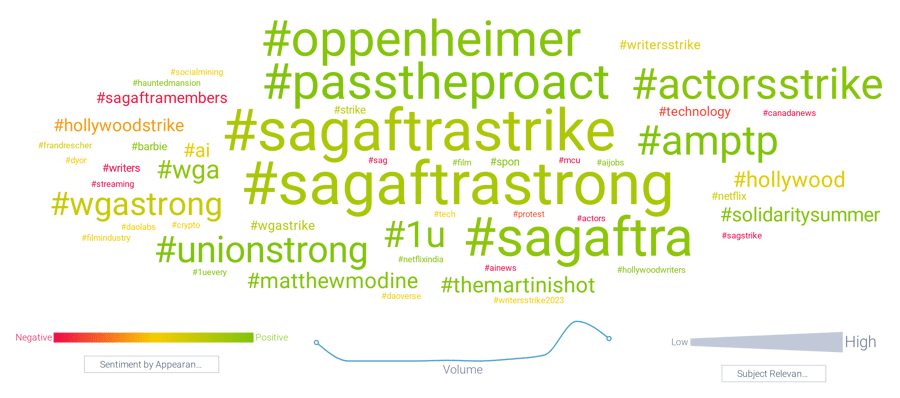 Figure 8: Hashtag and sentiment analysis of posts related to the 2023 Hollywood writers and actors strikes; Infegy Atlas data, March 1, 2023, through July 31, 2023.
Specific hashtags related to that fear are highlighted in Figure 9 and include #AI, #Technology, and #HollywoodStrike, among others. A particularly interesting hashtag is #Oppenheimer, which references Christopher Nolan's 2023 movie about scientist Robert Oppenheimer's struggles with introducing potentially world-ending technology in the form of a nuclear bomb. The hashtag reflects writers' and actors' concerns that AI technology can potentially end their careers and way of life.
Using social media to identify consumer pain points
Understanding consumer pain points can be key to a new product's success. When researching and developing a new product, social listening data can help your company understand how consumers are complaining about similar products so you can avoid making similar mistakes.
Consider Twitter's recent mistake of limiting the number of tweets users could view in a day. In July 2023, Twitter temporarily limited the number of posts users could read in an effort to reduce the impact of corporate data scraping. Verified accounts were originally limited to 6,000 posts per day, unverified accounts to 600 posts per day, and new unverified accounts to 300 posts per day.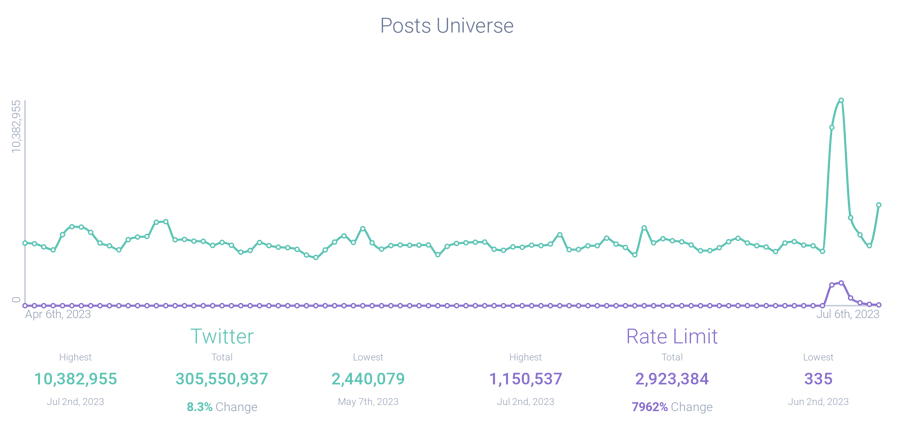 Figure 9: Post volume related to Twitter's July 2023 rate limit; Infegy Atlas data, April 6, 2023 through July 6, 2023.
As illustrated by Figure 10, users immediately took to social media, complaining about restricted access and an error message that said they had exceeded their "rate limit."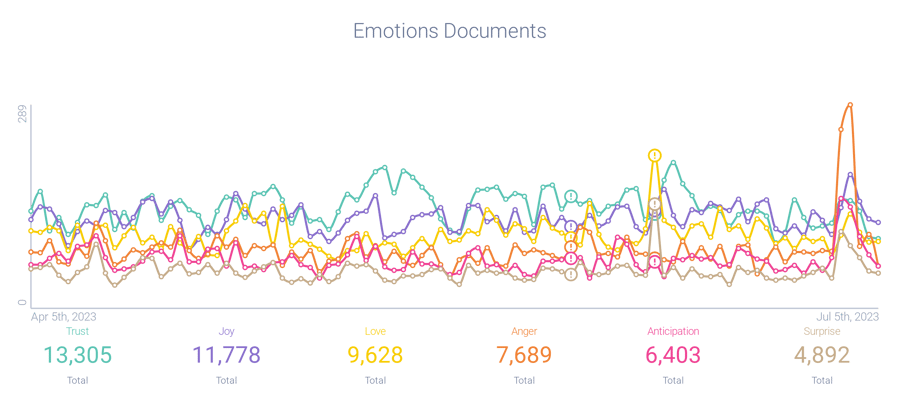 Figure 10: Sentiment analysis regarding Twitter's July 2023 rate limit, Infegy Atlas data, April 5, 2023, through July 5, 2023.
The sentiment surrounding these posts was overwhelmingly negative, as shown in Figure 11, which reflects a three-month high in anger at the time the tweet limit went into effect.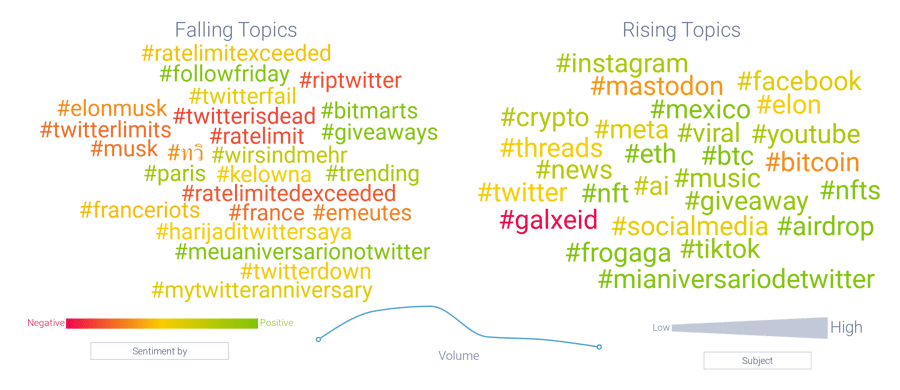 Figure 11: Hashtag and sentiment analysis surrounding Twitter's July 2023 rate limit; April 5, 2023 through July 5, 2023, Infegy Atlas data.
A hashtag analysis (Figure 12) shows negative sentiment across multiple posts, including Twitter-related hashtags such as #TwitterIsDead, #RateLimit, #TwitterLimits, and #RIPTwitter.
There are several insights a social media company's R+D department can take away from Twitter's mistakes.
When you're building a social media product, it's important to prioritize reliability and accessibility.
Communication is important. Users want to be informed of major platform changes before they occur.
Users want open platforms. They don't want to be limited in the number of posts they can access.
Insights such as these can help your company identify consumer pain points in order to avoid making mistakes when developing new products and services. These insights can also help you identify opportunities to meet consumer needs in an area where your competitors fall short.
Using social media to analyze your competition
Going beyond just customer complaints, it's important to understand the entire conversation around your own brand, as well as your competitors' brands.
As an example, let's consider Xbox and PlayStation.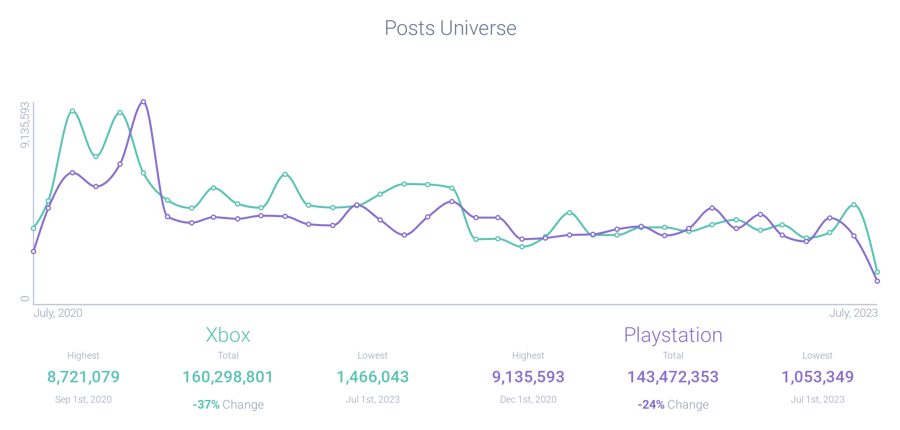 Figure 12: Post volume analysis Xbox vs. PlayStation; Infegy Atlas data, July 2020 through July 2023.
A recent post volume analysis shows that both brands have similar post volumes that are strongly correlated (Figure 13).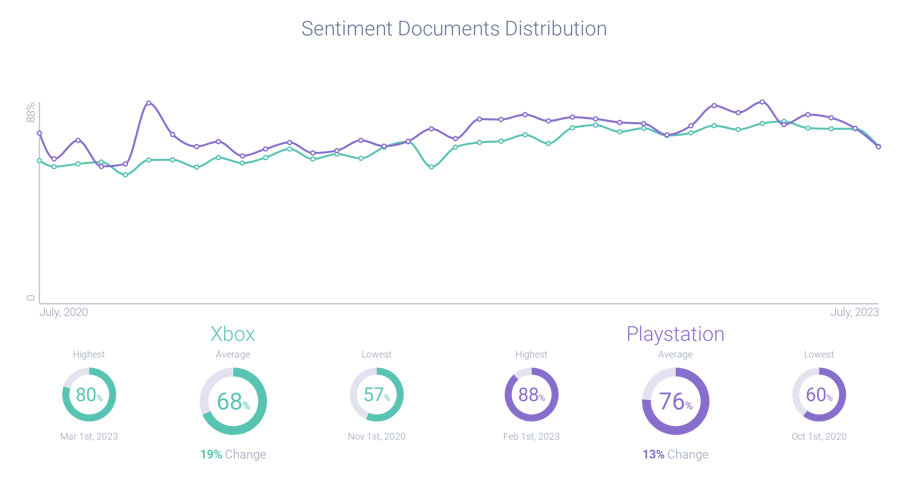 Figure 13: Post volume and sentiment analysis Xbox vs. PlayStation; Infegy Atlas data, July 2020 through July 2023.
Based on the data in Figure 13 above, you may assume that the conversation surrounding the two brands is similar. However, Figure 14's sentiment analysis shows that PlayStation's sentiment is 8% higher than Xbox's, a significant difference between the two brands.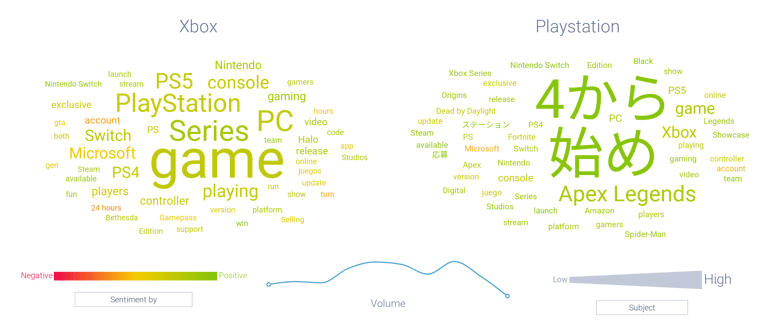 Figure 14: Keyword analysis of Xbox vs. PlayStation; Infegy Atlas data.
A keyword analysis shows us that people aren't really talking about Xbox games. Instead, most mentions of Xbox include reference to its competitors, including Nintendo, Nintendo Switch, PlayStation, PS5, etc.
In contrast, PlayStation's keywords focus more on the brand's own games, in particular Apex Legends. This insight may explain why PlayStation's overall brand sentiment (Figure 14) is higher than Xbox's sentiment. People are excited to play Apex Legends on PlayStation 5!
It's typically not good news for a brand that its main conversations center around its competitors. You want your customers to be talking about how great your products are, not about your competitors' products. Fortunately, Xbox can use this information to better understand what its target customers like in various games and focus its R+D efforts on developing more games that meet the needs of its consumers.
Social intelligence can help drive R+D efforts
Bottom line? The examples above illustrate how social listening insights can provide direction and focus to a company's R+D efforts. These insights can be used in countless ways, from identifying consumer trends and product opportunities, to identifying areas ripe for disruption, to solving customer pain points and avoiding the mistakes of your competitors.
To learn more about how Infegy Atlas' social media intelligence can help drive your company's research and development efforts, request a custom demo.