Using the power of social listening to boost your business
by Infegy Research Team on September 7, 2023
The benefits of social listening for your business go far beyond simply helping you gain an understanding of what people are saying about your brand. Using social listening data to guide your company's decision making can improve your brand's reputation, provide an edge over your competition, allow you to build an effective marketing content strategy, and so much more.
When used strategically, social media insights can have a lasting positive impact on your bottom line.
Read on to learn how the power of social listening can take your business to the next level.
Reputation management and customer service
In today's day and age, word travels fast. That means maintaining a good reputation is vital for the survival and success of any brand. Social listening allows you to understand what your customers are saying and quickly respond to negative sentiment before it causes long-term damage to your brand's reputation.
Let's consider Tesla as an example. Tesla launched its much anticipated semi-autonomous driving feature in September 2014.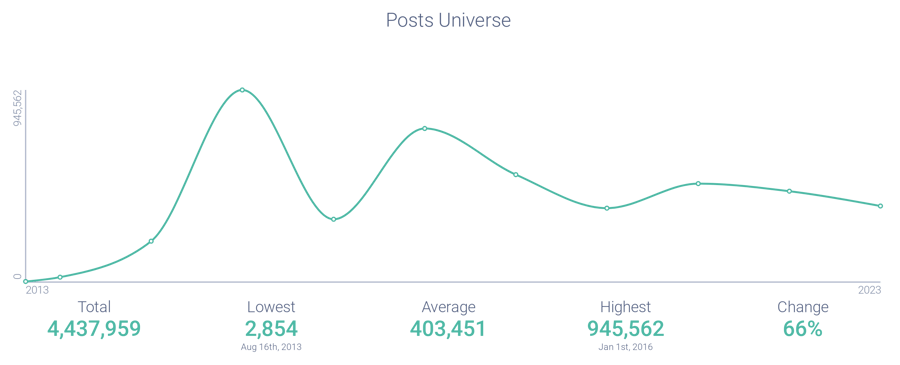 Figure 1: Post volume analysis related to Tesla (2013 through 2023); Infegy Atlas data.
As you can see in Figure 1, there was a sharp uptick in social media conversations corresponding to the launch of the much anticipated feature.
Typically, with a new product launch such as this, we see an initial sharp spike in post volume when the new technology is introduced, then things settle back down to baseline levels. That's not what happened here.
Instead, there was a secondary spike that never quite settled down. This atypical spike behavior should serve as a warning that something's not right.
Once we identify atypical post volumes such as these, the next step is to figure out what's causing them, so your business can respond rapidly. Let's start by looking at consumer sentiment.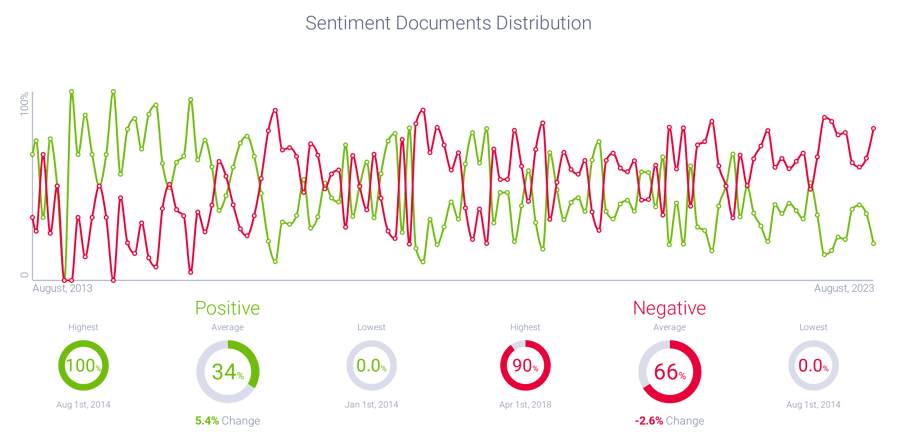 Figure 2: Consumer Sentiment analysis related to Tesla (August 2013 through August 2023); Infegy Atlas data.
Figure 2 provides valuable insight into the sentiment surrounding consumers' social media posts. Notice the drastic shift from primarily positive conversation prior to September 2014, to primarily negative conversation around Tesla after that date.
The timing of the shift in sentiment coincides almost exactly to Tesla's semi-autonomous driving feature's launch.
What exactly was fueling the negative sentiment? To get an idea, we conducted a keyword analysis of posts related to Tesla.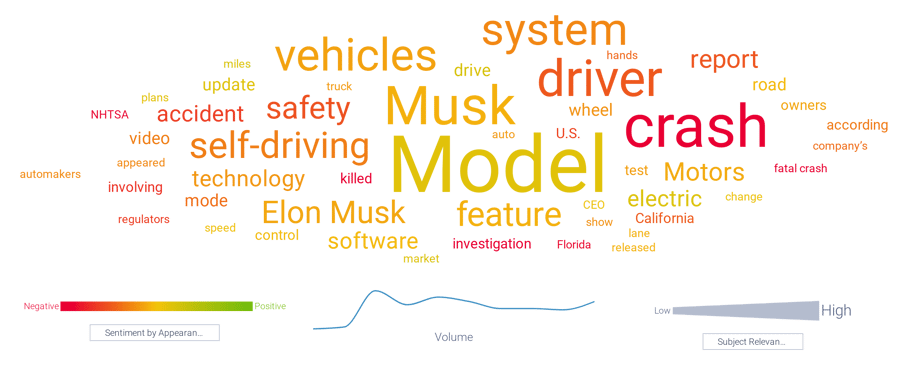 Figure 3: Keyword analysis of topics related to Tesla (August 2013 through August 2023); Infegy Atlas data.
As you can see in Figure 3, our analysis indicated extremely negative Sentiment, with prominent keywords such as "crash," "accident," "safety," "investigation," "self-driving," etc. These keywords, and the negative sentiment surrounding them, suggest a strong reputational danger for Tesla.
A deeper dive into these keywords showed that consumers were concerned about several aspects of Tesla's self-driving feature, including:
Its ability to handle complex driving scenarios
The potential for driver complacency
A potential rise in accidents resulting from the technology
An inability to distinguish between automated and manual control of a vehicle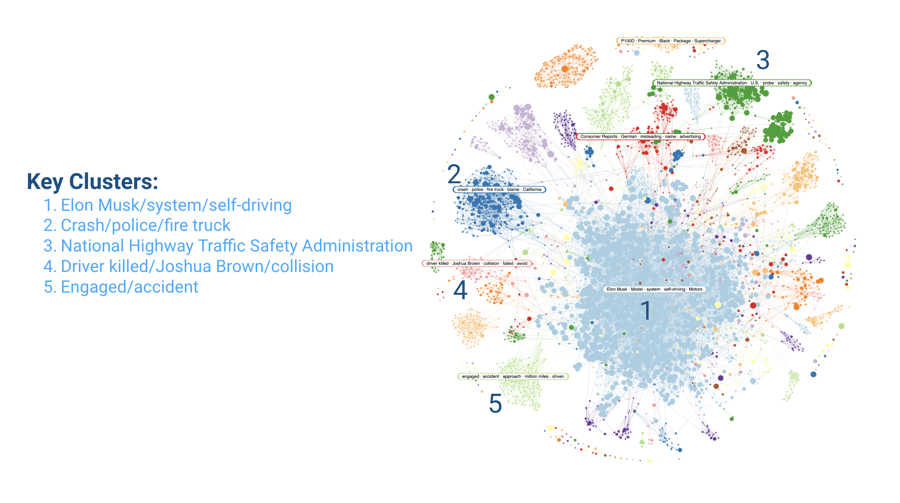 Figure 4: Cluster analysis of topics related to Tesla (August 2013 through August 2023); Infegy Atlas data.
A cluster analysis of negative Sentiment topics (Figure 4) shows key clusters surrounding:
Elon Musk/system/self-driving
Crash/police/fire truck
National Highway Traffic Safety Administration
Driver killed/Joshua Brown/collision
Engaged/accident
A strategy or marketing manager for Tesla could use this cluster analysis data to better understand how people are talking about both the company and this key feature. The resulting data could then be used to shift direction, take action to quell the negative comments, and salvage the brand's reputation.
As you can imagine, time is of the essence as Tesla works to combat negative sentiment and repair its brand's reputation, which is why having access to social listening data is so important.
Social listening platforms, including Infegy Atlas, allow brands to quickly and efficiently track online discussions, mentions, and sentiment related to a new product launch or other brand event. The insight gained can help the brand target key influencers, understand common themes, and identify potential areas for improvement.
Learn more about how to understand your brand's perception and overall brand health on our Brand Management page.
Competitor analysis and market insights
Another way social listening can help take your business to the next level is by providing insight into your competitors and the market.
Let's consider Target and Walmart in the summer of 2023.
These two big-box retailers compete in a similar space, and comparing the two can provide helpful insight into the impact their actions have on consumer sentiment and business performance.
For example, Target recently experienced reputational challenges following the launch of a PRIDE line of products in May 2023.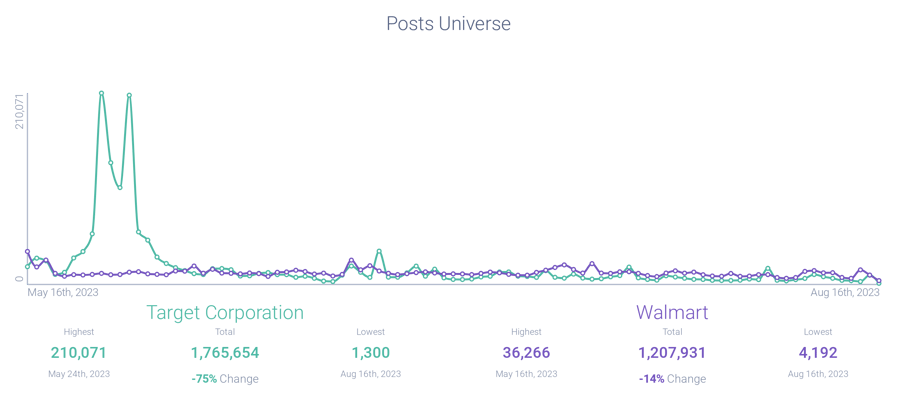 Figure 5: Post volume analysis, Target vs. Walmart (May 24, 2023, through August 16, 2023); Infegy Atlas data.
In Figure 5, notice the sharp uptick in posts corresponding to Target's PRIDE product launch in May.
While Target has a long history of selling themed products during PRIDE month, this year's collection garnered a strong response due to broader debates on LGBTQ+ issues and the role corporations should play in supporting various social groups.
In comparison, notice how Walmart's social media mentions have remained steady over the same time period. In general, Walmart tends to stay away from championing particular social groups' celebration months.
Digging deeper, let's consider consumer sentiment regarding Target versus Walmart.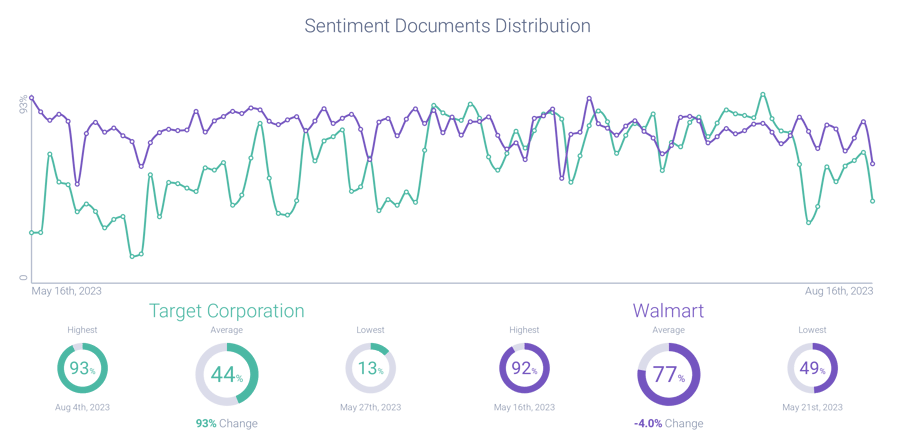 Figure 6: Sentiment analysis, Target vs. Walmart (May 16, 2023, through August 16, 2023); Infegy Atlas data.
Figure 6 shows that Walmart has 30% higher positive sentiment than Target. It's unusual for companies that compete so closely to have such drastically different consumer sentiment.
A keyword analysis offers additional insight into why consumers are unhappy with Target.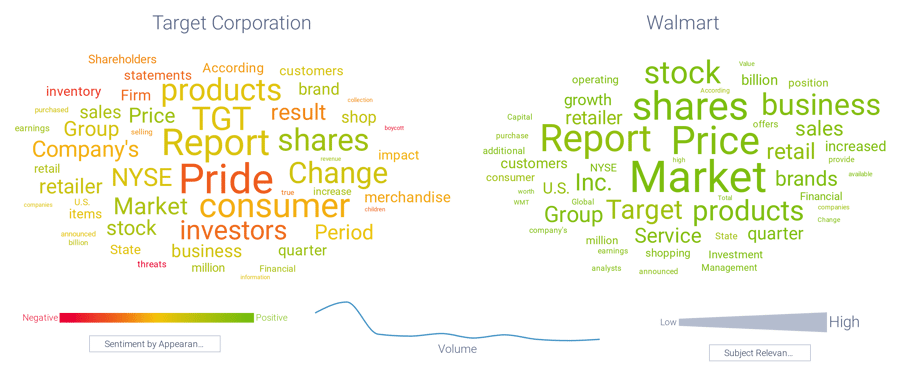 Figure 7: Keyword and Sentiment analysis, Target vs. Walmart (May 16, 2023, through August 16, 2023); Infegy Atlas data.
In Figure 7, notice the negative sentiment (reflected in red, orange and yellow) surrounding keywords such as "pride," "inventory," "products," "investors," etc. The company may find the mention of a "boycott" especially concerning.
In comparison, Walmart's sentiment remains overwhelmingly positive. Keywords focus primarily on topics related to business performance, such as "report," "market," "shares," "growth," etc. It's especially interesting to note the appearance of "Target" in the Walmart keyword analysis, which may indicate that certain consumers are making a shift from Target to Walmart.
Marketing and strategy managers for both Target and Walmart would be wise to take note of this consumer sentiment data, as it can provide important insights for both brands. Understanding a competitor's social media conversation trends is an important data point when making decisions about the future direction of a brand.
Three potential audiences for this data include:
A Target brand strategist researching Walmart
A Walmart brand strategist researching Target
A third-party consumer brand strategist trying to decide which store is a better fit for a certain product
Building a content marketing strategy and audience persona
When developing a content marketing strategy, brand managers often consider a target market or consumer persona. Social listening data can be a great way to gain an accurate interpretation of a brand's target customer.
Why is establishing a target customer/persona important?
Audience relevance – Marketing content is most effective when it resonates with an intended audience. Creating a detailed client persona can help marketers understand the target audience's preferences, pain points, behaviors, and demographics.
Content personalization – Personalized content has become a cornerstone of modern marketing. Consumers have grown to expect marketing content that addresses their specific interests and challenges.
Problem solving – A well-defined persona can help marketers develop solutions to the challenges their potential customers face.
Efficiency – Focusing on a well-defined persona can help a brand be more efficient in its marketing efforts, as it provides clear direction to marketers as they are creating content.
As an example, let's build a consumer persona for a typical Taylor Swift fan.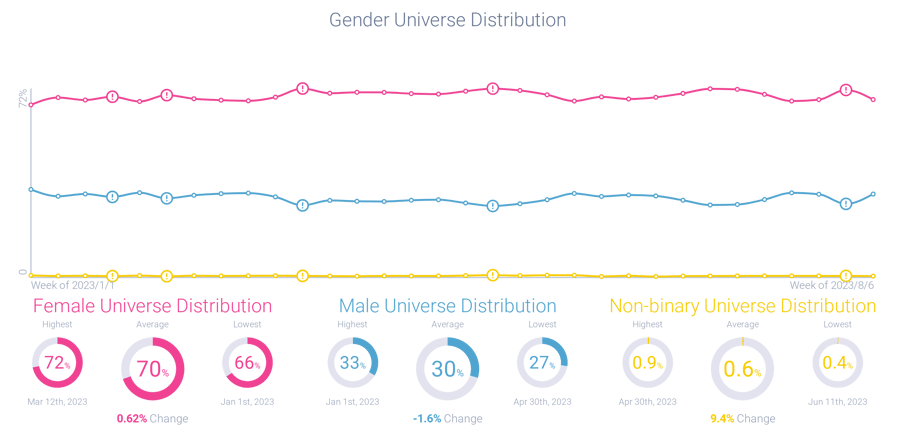 Figure 8: Gender analysis of those posting about Taylor Swift (January 1, 2023, through August 6, 2023); Infegy Atlas data.
First, let's consider the gender of Taylor Swift fans. Figure 8 illustrates that 70% of those talking about Taylor are females, while only 30% are males. Notice that there's virtually no fluctuation in these percentages over time. That means we can confidently assume that Taylor Swift's target persona is female.


Figure 9: Age analysis of those posting about Taylor Swift (January 1, 2023, through August 6, 2023); Infegy Atlas data.
Next, let's consider the age of Taylor's target persona. Figure 9 offers interesting insight. Notice that it's not only teenage girls who are talking about the artist. Instead, Taylor is widely discussed across multiple age groups. This may be due to the multi-generational focus of her Eras Tour, which included the artist's older music as well as more recent releases.


Figure 10: Income analysis of those posting about Taylor Swift (January 1, 2023, through August 6, 2023); Infegy Atlas data.
Now that we understand our target persona is female and spans several generations, let's consider income demographics. Figure 10 illustrates that an average "Swifty" has a higher household income, more disposable income, and a higher home value than the average American. Taylor's fans are also 4.6% more likely to have a college education. This could be helpful information when determining ticket prices or merchandise.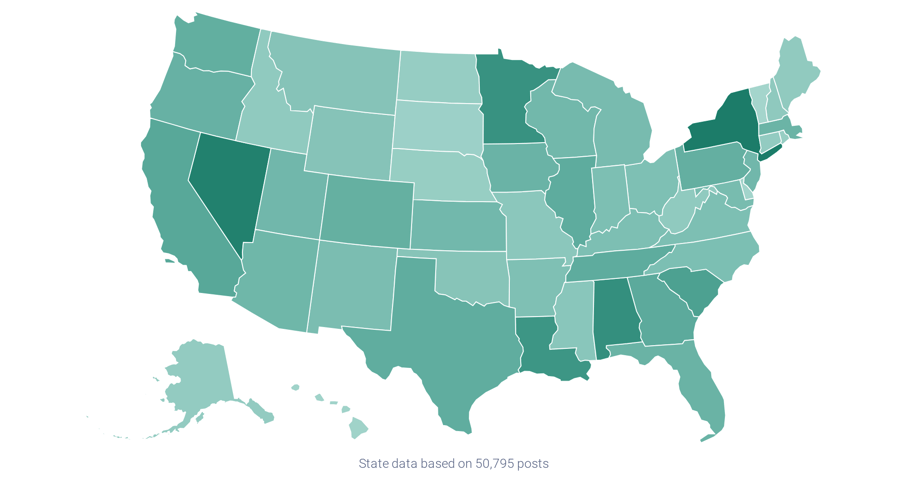 Figure 11: Geographic analysis of those posting about Taylor Swift (January 1, 2023, through August 6, 2023); Infegy Atlas data.
A geographic analysis (Figure 11) shows where Taylor Swift's fans are located, which can be helpful information as her team decides on tour stops.
By using social listening data to create an audience persona, Taylor's marketing team develop more targeted marketing messages, determine appropriate ticket pricing, decide on future music releases and merchandise, and identify cities to stop at during the tour.
Social intelligence can help you take your business to the next level
The key takeaway?
The insights gained from using a social listening platform, such as Infegy Atlas, can help you better understand opportunities to grow your business, outperform your competition, and target your ideal client base. Ultimately, these insights can help you better serve your customers with relevant products and services that meet their needs.
With relevant social listening insights, the possibilities are endless.
To learn more about how Infegy Atlas' social media intelligence can help drive your company's research and development efforts, request a custom demo.