How to use competitive intelligence and social media benchmarks to boost content effectiveness
by Hephzibah Dutt on April 7, 2023
Series: Social Intelligence for Content Strategy - Part II
As the market remains tight, your inbound marketing efforts will be the key to engaging and converting customers in a more cost-effective way than traditional outbound marketing methods.
Here, we continue our three-part blog series on ways to strengthen your marketing content strategy. You can do this by gathering and applying social listening data to:
Build personas
Analyze your competitors' content strategies
Assess the effectiveness of your content with social media benchmarks
Stay on top of industry trends
Gain keyword insights and conduct topic research
In particular, we focus on applying social media insights to steps two and three from the list above. To see how to use your social listening solution to build personas for your content strategy, check out Part I of this series, "How to Build Personas for a Content Strategy that Leads to Conversion."
Analyze your competitors' content strategies
Competitive intelligence is all about gathering information on your competitors so that you can better understand their strengths, weaknesses, and strategies. By doing so, you can identify new opportunities for growth, improve your own sales and marketing tactics, and stay one step ahead of the competition.
Benefits of using social media competitive intelligence
One of the biggest benefits of competitive intelligence for a content marketing strategy is that it can help you identify gaps in the market that your competitors may have overlooked. For example, if you notice that your competitors are not targeting a particular demographic or are not offering a certain type of product or service, you can capitalize on that and fill that gap in the market. This can lead to increased sales and market share for your business.
Another benefit of competitive intelligence is that it can help you improve your own sales and marketing tactics. By analyzing your competitors' tactics, you can identify what is working well for them and apply those same tactics to your own business.
Let's try out some examples carrying on with the hypothetical scenarios where we're content marketers for the Star Wars brand: using Infegy Atlas social intelligence data, we're going to look for competitive intelligence that would inform strategy with an intent to discover which content strategies worked and which didn't.
Related: Learn other ways to use competitive intelligence in our free eBook, How To Win New Business Pitches With Social Listening Insights
Sentiment analysis of competitor content
We decided to examine marketing content created for the high fantasy franchise The Lord of the Rings (LOTR) beginning with the new Rings of Power trailer which dropped in February 2022. We started with a sentiment analysis of the conversation (February - March 2022).

Figure 1: Sentiment analysis of the response to the Rings of Power trailer (February - March 2022); Infegy Atlas data
Sentiment analysis revealed a high percentage of negativity in the conversation (Figure 1). Diving in, we found that fan reactions to the diverse and non-traditional casting in the series were the cause of most of the negative sentiment. The trailer made it abundantly clear that the new series was not going to adhere to a white, Anglo-Saxon-inspired world that readers of Tolkien's novels generally associated with LOTR.
If we were content strategists for Disney and Star Wars, our prime takeaway from this piece of Infegy sentiment analysis would be the audience insights into an overlapping fan base: we could preemptively prepare content that addresses fan responses to non-traditional casting, or, better yet, devise content pieces that prime our audience for non-traditional and diverse casting choices.
Related: Learn how Whispr Group applied audience insights to boost a client's Instagram following by 70% (Case Study).
Positive responses to competitor content are just as enlightening.
A tweet reposting the trailer for Harry Potter and the Deathly Hallows - Part 2 went viral in December 2019. Sentiment analysis of the conversation around this tweet revealed tremendous positive sentiment – 84% of the conversation (Figure 2).

Figure 2: Sentiment analysis of the conversation generated by a post-re-sharing of a Harry Potter and the Deathly Hallows - Part 2 trailer nearly 10 years after the release of the movie; Infegy Atlas data
This shows that old, branded content still has influencer power in the social media world; use it to craft viral tweets of your own and capitalize on the power of nostalgia amongst your fan base.
Use competitive intelligence to identify other competitors
Social listening around your competitors' conversations can reveal their competitors … which means you can uncover and prepare for potential threats and the marketing strategies of other competitors.
We conducted a search that included two fantasy, sci-fi competitors to Star Wars – Harry Potter and LOTR. We then used Infegy Entities to analyze the conversation (Figure 3). Infegy Atlas Entities is an in-platform capability that can detect notable people, places, brands, companies, movements, systems, and products within any conversation.

Figure 3: Entities analysis of the conversation around the Harry Potter movie series, LOTR, and Star Wars (March 2020 - April 2023); Infegy Atlas data.
We found that many people talking about the Harry Potter movie series, LOTR, and Star Wars are also talking about Game of Thrones.
The shared fan base means that GoT is a competitor of Star Wars. Still, now that you know this, you can learn from GoT's use of social media content and expand on their strategies to drum up engagement around your content.
For example, @GameOfThrones promoted engagement on a tweet by releasing exclusive images from the #HouseOfTheDragonTrailer. Infegy Atlas shows that this tactic has generated overwhelmingly positive sentiment and the number of positive documents peaked around the series at 17,753 posts (retweets/engagement; Figure 4).

Figure 4: Distribution of the positive and negative posts (documents) after a strategic Game of Thrones promotional post (2022); Infegy Atlas data
In this way, gathering information on your competitors' content will provide new opportunities to engage your audiences. You can adapt and strategize content to drive sales for your business.
Use social intelligence for benchmarking and measuring engagement around your branded content
Benchmarking content strategy gives you valuable insights into what is working well for other companies in your industry.
You can see which topics are resonating with your target audience, which formats are most effective, and which distribution channels are driving the most engagement. This can help you optimize your own content strategy and improve your performance over time.
Most social listening tools have capabilities and metrics that are super helpful when it comes to benchmarking.
Using social intelligence for benchmarking: Post volume
Post volume is a great way to see the impact of your marketing content. Increased post volume after releasing a marketing asset would suggest that the asset was successful since it generated awareness.
We looked at Star Wars post volume before and after the Disney acquisition. Disney acquired Star Wars in 2012. Since then, the online conversation around the brand has grown by 142%.
While tracking the growth of Star Wars' visibility since the exposure is an interesting metric in itself, we found that we could also use post volume to measure the buzz generated by a series of trailers for The Force Awakens prior to the release of the product/film itself.
The Force Awakens represented a major reboot of the Star Wars franchise, so Disney spent millions of dollars on marketing content. The post volume graph below shows how those trailers and that marketing content performed (Figure 5).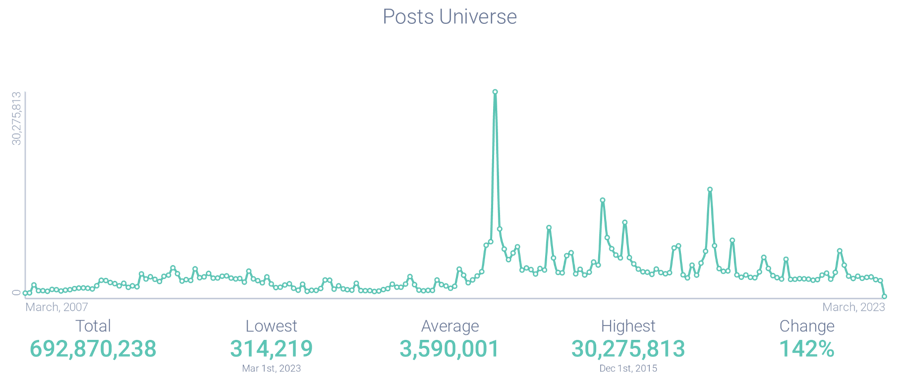 Figure 5: Post volume for Star Wars (2007-2023); Infegy Atlas data.
Prior to the massive December 2015 premier spike, there were smaller spikes that represent the exposure gained from each trailer release. The October 2015 trailer generated drove online conversation and led to record-breaking ticket sales, with many of those sales occurring right after the trailer was released by Disney.
Using social intelligence for benchmarking: Tracking engagement and intent
Social listening tools provide a couple of different valuable tools to measure engagement around content releases. Let's track engagements around the release of several trailers in the Star Wars franchise.
The video game trailer for Star Wars Squadrons had 3469141 engagements; the @EAStarWars account accounted for 25% of that distribution (Figure 6). In other words, the nearly 800,000 posts reflect that the Star Wars content (the video game trailer) performed really well and the EAstarwars branded account led a huge part of the promotion.

Figure 6: Engagement around the trailer for Star Wars Squadron video game; Infegy Atlas data.
Another useful metric some social listening solutions like Infegy Atlas make available is the functionality to measure the extent to which well people are in a buying mood. Our social listening solution, Infegy Atlas, has custom analytics that measure what percentage of the conversation contains relevant intent themes.
Related: Learn the five questions to ask before you choose a social listening provider (Blog)
For example, we looked at Intent, Intent-to-Churn, and Intent-to-Purchase in the conversation Disney+ (Figure 7).

Figure 7: Themes analysis of the conversation around Disney +, filtered to Intent; Infegy Atlas data.
Since people posting online usually discuss their interest in an item prior to purchasing or their intentions to churn before they do so, looking at customer intent themes in the responses to your content can be enlightening.
For example, we could use the Infegy Themes function to analyze upcoming Star Wars trailers and gain intent metrics as social users respond to the trailers.
Tag-team competitive intelligence and social media benchmarking!
Competitive intelligence and benchmarking can often go hand-in-hand when optimizing your content strategy. Using social intelligence can help you quickly and regularly monitor and analyze your performance against that of your competitors and industry leaders.
If you think you could use social intelligence to boost your content marketing efforts and more, request a free, custom demo of Infegy Atlas today!