Infegy Atlas' Narratives feature transforms millions of posts and news articles into immediate market intelligence
by Henry Chapman on November 21, 2022
On November 22nd, 2022 Infegy rolled out a new version of the most versatile functionality within the Infegy Atlas platform, Narratives. This new iteration of Narratives can quickly cluster and categorize millions of social posts and news articles into easily digestible categories, jump-starting your search for relevant insights.
How does Narratives work?
Here, we will show how you can use Narratives and its new features to visualize, analyze, and summarize a huge subject like Apple, Inc. (yes, every type of online conversation mentioning the company) into its key components.
Figure 1: A dynamic supercluster of a narratives force graph, 500x original speed; Infegy Atlas data.
Step 1: Begin with a broad and general search
Apple is a multi-billion dollar company involved in dozens of industries like software chip design, TV show streaming services, audio engineering, and consumer financial products. It's a perfect example of how Infegy can cluster millions of posts into relevant, unique buckets.
We can begin a broad search for Apple by using a precrafted Entity query on Infegy Atlas.
With Infegy Atlas' Entities, you just begin to type "Apple," and the platform automatically recognizes that we might be interested in Apple Inc., not apple fritters or apple pie, and pops up the Entity as an option. This type of search will not only grab posts that mention Apple, but also all their related posts that talk about AirPods, iPhones, or iOS (Figure 2).
Figure 2: Infegy Entity search feature in action; Infegy Atlas platform.
Within seconds, our search reveals 8,4980,580 individual social posts or news articles related to Apple for the designated date range.
We can now navigate to Narratives and begin diving into Infegy Atlas's analysis and categorization of the documents. Narratives gives us the visualization of all the individual posts, articles, or documents, in relation to one another. It essentially appears as a supercluster of relevant documents (Figure 3).
Figure 3: Infegy Atlas clustering narratives showing the top clustered documents associated with Apple Inc; Infegy Atlas data.
Related: Read more about the updated Narratives, and how it can boost your search for actionable consumer intelligence.
Step 2: Dive into the supercluster of Narratives
The supercluster above gives us the related clusters of posts and news articles that mention something related to Apple. In it, each node represents an individual post, and is clickable – you can read the post by clicking on it.
The nodes are sized by the number of engagements and impressions: nodes with larger radii have had more influence on social media versus nodes with smaller radii.
Collections of nodes make up a narrative cluster. While nodes predominantly live in one cluster, they can have links to others, depending on how similar the underlying subjects are.
You can customize the size of your supercluster. Narratives can display up to 100,000 nodes in a graph. The only limitation would be your computer hardware and internet speed.
In other words, if you customized your cluster to 100,000 nodes, and set the time-frame to three months, you could potentially visualize 1.12% of all worldwide, Apple-related posts and online articles shared over the last 3 months in one, dynamic, interactive graph!
With Narratives, what Infegy Atlas gives us is a pre-categorized and automatically labeled graph displaying eight large narrative clusters.
If you are looking for something specific, the labels on the narrative clusters will help you identify the relevant areas of conversation.
If you're in pursuit of the largest, contextualized research-picture, this step is essentially a diving board into each narrative area.
We'll now show how you can activate the full analysis power of Infegy Atlas within this clustering layout, by diving into the top three narrative clusters. Visiting each narrative in turn will give us an understanding of how the Apple, Inc. brand has been discussed over the last three months.
Top three Narrative clusters revealed in our initial query:
Financial markets
iPhone 14
Streaming services
Narrative cluster 1: The financial markets conversation around Apple, Inc.
Represented below in blue, the cluster of nodes marked, "(market•stock•investors•shares•quarter)" points us to a distinct narrative cluster on financial markets and Apple (Figure 4).
Figure 4: Infegy Atlas superclusters showing the highlighted stock cluster; Infegy Atlas data.
Narratives around financial markets and Apple's share price made up the largest cluster in the Apple-related supercluster, meaning that this conversation had the most documents relevant to the narrative.
Apple's share price can move entire markets, so it makes sense that a large percentage of online conversations involve that financial space. Furthermore, while other FAANG stocks have lost much of their value over the last six months, Apple's losses have been comparably minimal (Figure 5).
Figure 5: Line graph showing how Apple's FAANG neighbors have lost much more value since the NASDAQ's November 2021 peak; Yahoo Finance data.
Furthermore, as of the time of authorship, Apple is the largest publicly traded company in the world. Its share price is watched by millions of retail and institutional investors. These millions of investors, interested individuals, journalists, and senior executives talk, post, and discuss these important subjects online.
It remains to be seen whether Apple's share price will continue its resiliency in the face of this tightening Federal Reserve cycle. In any event, Infegy's Narratives would show any change in the conversation.
Now, we can use Infegy Atlas to drill further down into the narrative concerning Apple's share price within the Narratives tab itself.
Figure 6 is a narrative subcluster run as a subset of the network we saw before. Here, we get further subcategories: the first of the narrative clusters (dark blue) involves the Federal Reserve and rising interest rates, and the light blue cluster points out a narrative on share value (Figure 6).
Figure 6: Infegy Atlas clustering narratives showing the Apple's financial and stock subcluster; Infegy Atlas data.
Both of these occupy a large portion of the conversation around Apple's share prices because the company has remained remarkably buoyant over the last months through 2022's bear market. Much of this buoyancy has to do with Apple's remarkable cash hoard and walled garden approach to software which keeps users within their product ecosystem. All this is manifested in the size and density of the dark blue narrative cluster.
Analysts predict that Apple's immersive product ecosystem facilitates customer loyalty, even as they stare down a potential recession.
Infegy Atlas users will be pleased to note that they can get all the functionalities they are accustomed to for each narrative cluster and subcluster! For example, Figure 7 displays the sentiment analysis on the aggregate conversation's attitude on Apple's share price and financial narratives over three months (Figure 7).
Figure 7: Infegy Atlas tracks sentiment for the Apple financial subcluster; Infegy Atlas data.
Note that sentiment around Apple's finances became increasingly bearish before their Q3 earnings call on October 27, 2022. However, Apple far exceeded Wall Street's expectations of their Q3 revenue, and thus the financial positive sentiment improved significantly.
Narrative cluster 2 - iPhone 14
Displayed in green, we have the second largest cluster which Narratives has categorized as "(iPhone 14•event•launch•announced•expected)," thus pointing us to a cluster of conversations around the iPhone 14 (Figure 8).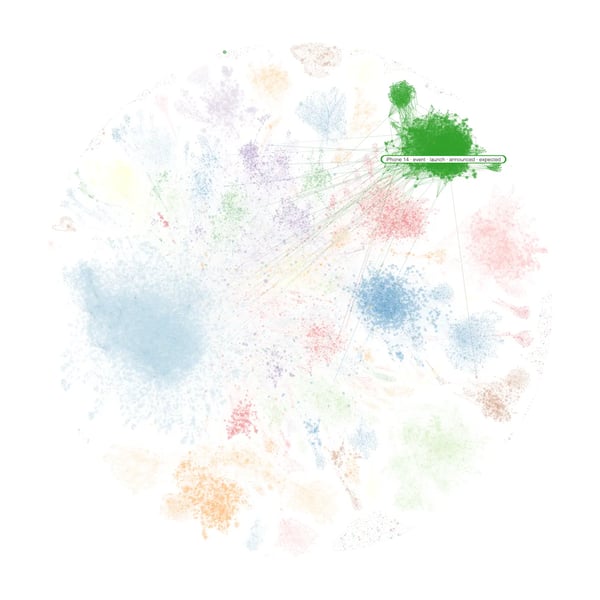 Figure 8: Infegy Atlas superclusters showing the highlighted iPhone cluster; Infegy Atlas data.
While Apple has been trying, with some success, to diversify their sales into services, iPhone sales make up around half of Apple's overall income. During our search interval, Apple updated their iPhone lineup by releasing the iPhone 14 and Apple Watch Ultra.
Although initial orders around Apple's consumer-level phones have been disappointing, Apple's luxury phones like their Pro Max have exceeded initial production projections. It makes sense that it shows up prominently within this cluster.
When we click on the iPhone cluster, Infegy Atlas will highlight the nodes (and clusters) that have affiliations with it. In this view, we can see just how closely investors and analysts (blue, from the financial markets cluster in Figure 3) engage in discussion over iPhone sales.
Let's zoom in a little deeper into the iPhone 14 cluster (Figure 9).
Figure 9: Infegy Atlas clustering narratives showing the iPhone and Apple Device subcluster; Infegy Atlas data.
The largest subcluster within this narrative are terms from Apple's Sept. 7, 2022 event.
Another subcluster of note is that one related to the products' features. There are clusters on the sizes of each iPhone model, the very popular Dynamic Island feature, and each color that is available.
Figure 10 shows those same clustered terms, this time as a word cloud colorized by sentiment.
Figure 10: Infegy Atlas word cloud showing top topics related to Apple's recent device launch; Infegy Atlas data
Dynamic Island, how Apple has integrated the iPhone's notch into iOS, has been remarkably popular with users. Equally popular are Apple's A-series chips that power iPhones to ludicrous speeds.
Narrative cluster 3 - Streaming services
The final subcluster we're going to dive into, displayed in light green, is labeled "(Spotify•Music•Streaming•YouTube)," and points us to the cluster of conversations on streaming services (Figure 11).
Figure 11: Infegy Atlas superclusters showing Apple's streaming services cluster; Infegy Atlas data.
As previously mentioned, a huge percentage of Apple sales originate from the iPhone. However, Apple has been trying, for the last several years, to diversify its revenue as a form of risk management. A key method in Tim Cook's playbook has been to expand into a subscription-based services business.
Subscriptions breed recurring revenue and allow Apple to further monetize consumer hardware purchases. Apple services, including Apple Music, grew by 4.98% to $19.19 billion for the quarter (Figure 12).
Figure 12: Line graph showing how Apple's services revenue has grown over the last decade; Apple shareholder data.
Diving into the streaming services subcluster, we find further narrative clusters that mention competitors in the streaming space like Netflix, Amazon Prime, Spotify, and HBO (Figure 13).
Figure 13: Subclusters related to Apple's services cluster; Infegy Atlas data.
Over the last several years, the streaming services sector has become increasingly competitive, with consumers getting increasingly burned out from their overwhelming options.
We can click into this subcluster to examine the other Entities in the conversation (Figure 14).
Figure 14: Top Entities appearing in Apple's services subcluster; Infegy Atlas data.
Most prominent among the Entities was Spotify, Apple's largest competitor in the music streaming business. This points to the conversation on how the companies have sparred over the last several years: Spotify has been disgruntled over Apple's monopolistic control over in-app purchases in the Apple App Store. The most recent iteration of this conflict occurred when Apple denied Spotify permission to release and market its newest audiobook feature.
Narratives speeds up your market intelligence analysis
Using the Narratives feature in Infegy Atlas, we started with a simple search subject of "Apple," but arrived at a deep analysis that revealed insights into Apple's share performance, new iPhone release, and pivot to streaming and services.
Infegy Atlas' Narratives lets you summarize millions of posts affiliated with an Entity like Apple in seconds, and with very little manual work. After you've acquired the big picture of a huge subject, you can dive into each cluster and subcluster to learn more about the parts that make up the whole story.
Request a custom demo to see how Narratives can get you to the customer intelligence and social listening data you need!