Top 3 Corporate DEI reckonings of the last 10 years: social listening revelations about the social justice journey
by Hephzibah Dutt on May 31, 2023
Non-profit, education, and advocacy organizations have been pushing the framing concepts of DEI - diversity, equity, and inclusion – since the 1960s. And yet, it wasn't until the early 2000s that corporations and industry leaders began to wrap their policies around DEI practices.
The last ten years have seen a massive boom in conversations and practices that finally draw issues of systemic discrimination and the need for equity and inclusivity into the public's consciousness. In fact, if data told the story, the social media analytics on the very phrase "Diversity, Equity, and Inclusion" provides significant exposition (Figure 1).

Figure 1: Post volume of conversations mentioning "Diversity, Equity, and Inclusion" (2013 - 2023); Infegy Atlas data.
Infegy Atlas post volume trends over the last ten years show a stunning 2,801% growth in posts that mention "Diversity, Equity, and Inclusion." In the world of social listening metrics, this is an astonishing growth metric.
How did this affect the business world and big industries like sports or entertainment?
Infegy Atlas social media intelligence can reveals a lot, allowing you to gain quantitative data even around complex and tough topics like diversity, equity, and inclusion.
In fact, in the past, we've used Infegy Atlas social listening to dive into 10 years of #BlackTwitter and discovered focused themes on remembrance, resilience, and resistance.
Here, we look at three moments of reckoning around diversity, equity, and inclusion – moments where social justice activism and communal push-back prompted corporate change.
1. Social listening insights into corporate responses to systematic racial discrimination
For many corporations, taking a DEI lens to business practices, organizational structure, and employee culture was a response to highly visible social movements – Me Too and Black Lives Matter being two of the most influential movements.
The tragic death of George Floyd at the hands of the police (May 2020) was a catalyst for conversations about racial inequality and police brutality. It led to increased awareness and the mobilization of support for the Black Lives Matter movement (Figure 2). Post volume in the BLM conversation peaked at over 32 million on June 1, 2020.

Figure 2: Post volume for "Black Lives Matter" (2013 - 2023); Infegy Atlas data.
Floyd's death and the mobilization of BLM sparked a global reckoning and renewed focus on the fight against systemic racism. This impacted corporations, prompting them to examine their practices and take a public stand supporting diversity, equity, and inclusion (DEI). Social intelligence from Infegy Atlas shows how this response was immediate; companies released statements expressing solidarity with marginalized communities and committed to addressing systemic discrimination within their organizations beginning in June 2020 – weeks after Floyd's death (Figure 3).

Figure 3: Posts mentioning corporate statements of solidarity or commitments to DEI. The big spike corresponds to the death of George Floyd and the rise of BLM (June 2020): Infegy Atlas data.
Skepticism regarding virtue signaling with corporate statements of solidarity is indeed justified. In fact, according to a recent report by Bloomberg, the current tightening of the economy has resulted in mass layoffs in tech – with internal DEI teams and leadership being among the first to go.
So, who's actually putting money where their mouth is? In other words, which companies are reinforcing their commitments to DEI in dollars and cents?
We looked into social listening data around corporate funding for DEI action and found that it grew tremendously between 2020 and 2023. We see a post-volume growth of 709% in conversations about corporate giving and DEI. Searching with these findings, we found that the top Entities in this conversation were Honda, Blackbaud, Goeasy, American Express, and Truist Financial (Figure 4).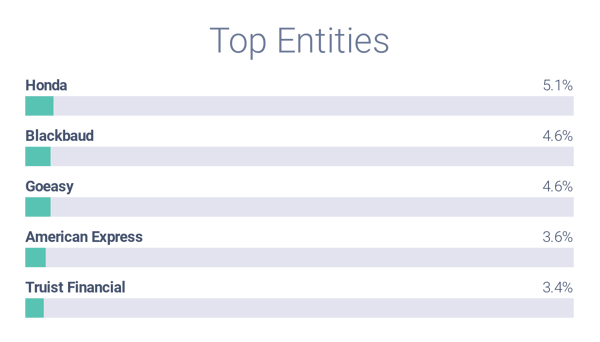 Figure 4: Entities in the conversation around DEI and corporate funding (2020-2023); Infegy Atlas data.
Related: Our free interactive dashboard, The Lumen, will show you the trending Entities on TikTok, Instagram, and Twitter
2. Social listening insights into underrepresentation in the entertainment industry
The movement surrounding #OscarsSoWhite emerged as a response to the lack of diversity and representation in the nominations and awards of the Academy Awards (commonly known as the Oscars). It gained momentum in 2015 when the hashtag #OscarsSoWhite started trending on social media. We used our social media intelligence tool, Infegy Atlas, to track the conversation (Figure 5).

Figure 5: Post volume for "Oscars so white" (2013-2023); Infegy Atlas data.
The smaller spike represents the post volume of the conversation in 2015 when The Academy came under fire for the underrepresentation of racial and ethnic minorities in the major award categories. Despite the protests that shed light on the systemic biases and barriers that hindered diverse talent from receiving recognition, all 20 nominations in the 2016 Oscar nominations for performance went to white actors. This blatant lack of response resulted in an immediate and huge backlash (the largest spike in post volume).
Related: 5 environmental justice hashtags that drove real-world impact blog
The social justice movement around #OscarsSoWhite finally sparked debates about the need for diversity in the entertainment industry at large. #OscarSoWhite called for more inclusive and equitable practices in the film industry, pushing for greater representation of marginalized communities in movies and artistic and executive leadership roles.
#OscarsSoWhite conversations continue to highlight the ongoing challenges of representation and inclusion in Hollywood. We can actually track this journey in audience sentiment analysis using our social listening software (Figure 6).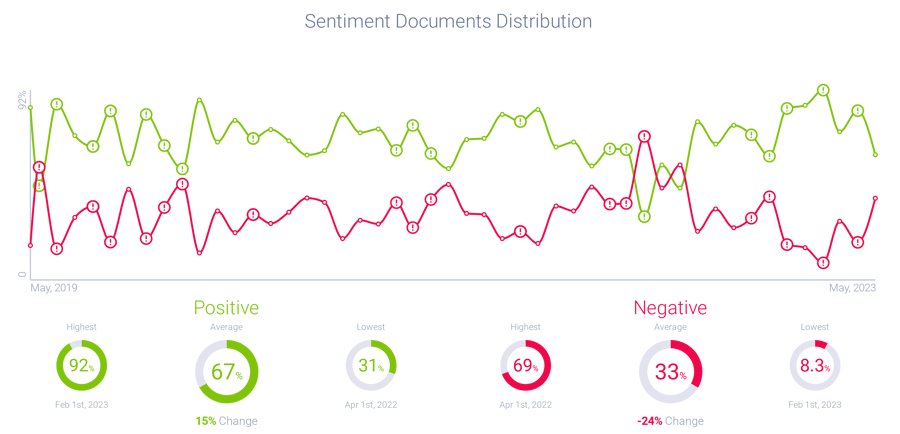 Figure 6: Sentiment analysis for #OscarsSoWhite (2019-2023); Infegy Atlas data.
Sentiment analysis around #OscarsSoWhite shows a recovery towards positive sentiment from 2019-2021, but the 2022 Oscars sparked conversation (and a decline in positive sentiment) about the all-white nominations for Best Actress and how a Black director has yet to win an Oscar for directing.
Still, the data shows that the overall sentiment around #OscarSoWhite is trending toward positive. Furthermore, Entities analysis of this conversation reveals that men and women of color are mentioned with high frequency and positivity (Figure 7).

Figure 7: Entities in the #OscarSoWhite conversation (2019-2023); Infegy Atlas data.
Ultimately, social media intelligence confirms how the #OscarsSoWhite hashtag activism has indeed led to conversation and debate about the need for diversity in the entertainment industry, as well as the beginnings of change.
3. Social listening insights into the equal-pay conversation in the sports industry
The #EqualPay movement is an off-shoot of #MeToo and #TimesUp.
While the hashtag has been used since early in the decade, it jumped to prominence when mandated salary disclosures in 2017 revealed gender pay disparities within the British Broadcasting Corporation (BBC). Soon after, the issues of unequal pay within the sports industry joined the conversation and pushed post volume around #EqualPay (Figure 8).

Figure 8: Post volume for #EqualPay (2013-2023); Infegy Atlas data.
In the post-volume graph above, we see a significant spike in 2017 (BBC controversy) and then an even larger one in 2019. The second big spike is post volume related to the US Women's National Soccer Team (USWNT).
The USWNT is the most successful team in international women's soccer. Despite their higher record of success, they had been subjected to huge disparities in pay and working conditions compared to the men's national team. Their legal battle for equal pay began in 2016 with only a handful of players. However, fresh from their fourth Women's World Cup title in 2019, 28 team members filed a gender discrimination lawsuit against the United States Soccer Federation (USSF).
Related: Social media insights into the Pink Tax and gender bias in CPG and marketing
The lawsuit sparked widespread public support and generated significant media coverage, shedding light on the issue of unequal pay in women's sports. Infegy Atlas data shows just how much of the #EqualPay conversation is sports-related: in the entire conversation around equal pay, the large blue cluster represents the conversations related to the USWNT and gender pay gap (Figure 9)!

Figure 9: Narratives showing topic clusters in the #EqualPay conversation (May 2013 through May 2023); Infegy Atlas data.
The conversation about gender pay gaps in sports extended beyond just the US and soccer. Various sports have come under scrutiny for unequal pay. Legislation regarding fair pay and workplace gender equality in the US and around the globe has been implemented or strengthened. For example, the Australian Workplace Gender Equality Act was passed in 2019. While these wins demonstrate progress in the fight for equal pay in sports, significant disparities still exist. We anticipate seeing future post-volume spikes around #EqualPay for years to come.
Related: Learn how Budweiser managed their brand during the FIFA World Cup 2022 alcohol ban
Meanwhile, however, we can celebrate some wins with the US Women's National Team. Along with a $22 million settlement, they secured improvements to travel and accommodations, as well as increased support for salaries.
Audience insights are vital to understanding the DEI journey
10 years of social listening data reinforces that social justice efforts rarely have linear progress narratives. Rather, the stories of success and change seem to come in ripples, ebbs, and flows.
Social intelligence allows you to gain quantitative data even around these complexities. Learn from sentiment analysis metrics and Infegy Trends to understand how cultural movements and emergent moments on social media are actually playing out, why specific communities feel the way they do, and to glean deep audience insights.
If you're looking for data that transcends over-simplified progress narratives and shows you what's really going on in your industry or area of action, we'd love to hear from you. Request a demo today!